Achieving a Green Belt in Living Sustainably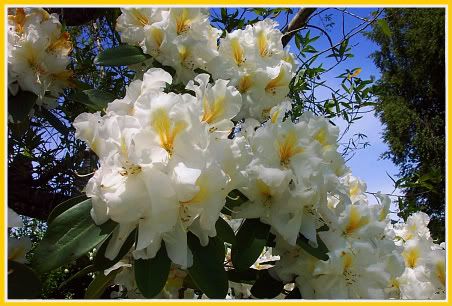 Rhododendrons: A Native Plant in My Mother's Garden
Nestled under a large shade tree, they require much less water to keep them beautiful than those planted in the sun.
Daily Photo #26 Guest shot by Myrna Kemp
*
The notion of Green living tantalizes our society. When I posted about my father-in-law's adobe homestead, one reader called it addictive porn and said he kept coming back to look at it. But, the reality is, for most of us, a true carbon neutral footprint seems beyond what we can achieve. Living like my father-in-law is not a reality for most of society.
But we can live greener.
What we have to do is make small changes in our lifestyle–and then make some more. When I first started martial arts class, my goal was to complete 10 jumping jacks without feeling like I was going to die (yes, I know, I was a wimp). Today I'm a black belt and do 200 with less effort than those first agonizing 10. The secret was not setting my aspirations too high. I made the change by looking only at my next goal–an objective only slightly further than I was achieving already. When I obtained that level, I would set another target.
So too, we can become Green, by setting small reachable goals.
My parents live frugally by nature. Water is a scarce resource over the summer. Thus my mother, a passionate gardener, has learned to plant drought tolerant and native plants. She works to find the places where the plants need the least amount of intervention to thrive. Maybe an achievable goal would be to only buy low water needs plants this season? Or to rearrange my garden slightly?
Brought up on homegrown vegies, in some ways going organic seemed natural. But being raised by working class people, other aspects of the Green eating seemed unbearable–$6 per gallon milk caused my ancestors to scream from their graves. Slowly though, I added one organic product at a time. I'm still not completely there but I'm further than I was 5 years ago.
While we are constantly upgrading our solar system, I know that not everybody has the impetus of living off the electric grid to force such an expensive green choice. However, a Santa Jose man has built an inspiring economically feasible home where his largest monthly electric bill is in the single digits. As the article says, "lofty resource conservation goals can be achieved on a modest remodeling budget." The house is a tract home in a suburban neighborhood, yet, by making small, low cost changes —a healthy environmental home became a reality.
I'd like to be greener. And I'm working on it. Maybe someday I'll achieve a green belt in environmental living. Until then, I'll keep working on it. I'll make small changes that add up to large ones.
I hope you do, too.