Don't Read Huck Finn or Should Anonymous Bloggers be Taken Seriously?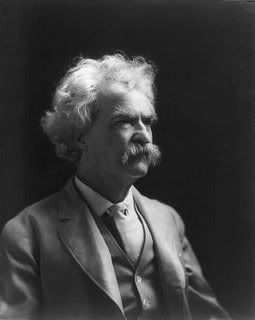 Samuel Clemens AKA Mark Twain
Just recently I read here about a local reporter's less than flattering view on blogs. The title of her story, "Indecent Expression" tells a great deal about her slant on one of my favorite forms of communication. She argues that blogs "are dangerous." She rightly points out the problems with unsigned comments and anonymous blogs but she fails to note the power of and opportunity afforded by this form of discourse.
I felt compelled to send a letter to the Journal and thought I would keep the conversation going by offering my submission to you. In the print media, a letter appears to the editor and rarely receives a response (although I got a very nice personal email from Hank already) but online the dialogue can flow back and forth for days between many people with a variety of views. I would especially like to hear opinions about the blogsphere's use of anonymity and how that has affected discussion. I have been interested in this subject for awhile.
Editor,
Blogs, as portrayed in the recent piece by Marcy Burstiner, come across as vitriolic playgrounds. In fact, at moments, the blogs (mostly in their comment sections) can degenerate into nasty word wars. But, many, if not most, local blogs are either not anonymous or are so lightly disguised that the authorship is known to the community. For instance, Fred's Humboldt Blog, ( mentioned in the article in close proximity to the comment "[w]ithout names attached, people have less fear of ramifications") in fact, has his picture (as well as his name) prominently displayed.
The largest blog, to my knowledge, in Humboldt County is one written by well known local lawyer Eric Kirk. His pieces are eagerly followed by many–including local journalists. He does allow anonymous comments and thus that area of his posts is not for the faint of heart. His political and legal knowledge, however, gives him insight into local topics. And he often posts within hours of something happening–which is impossible for print media to duplicate.
Like Eric, most other local bloggers have to face our neighbors and friends after we have published pieces. I, myself am a mostly non-political writer posting mainly small essays about the beauty of our local area. However, occasionally I express controversial opinions–most recently about the environmental problems of growing marijuana with the aid of diesel generators. Subsequently, I have sat around the kitchen table and talked in front of the post office about my opinion with people who believe differently from me.
Blogs provide a wonderful place for conversation to start between people of widely opposed viewpoints. We find areas we agree on and areas we differ. Taking the time to write down opinions makes us more careful and forces us to check our facts more closely than we might if we were just blabbing them out to like-minded friends.
The wonderful blog that this North Coast Journal puts out is a daily read for me. Hank Sims, especially, writes elucidating and interesting reports. Because the blog is put out on WordPress (a blogging platform) which I also use, I can see that hundreds of people from all over frequently read some North Coast Journal stories posted about our area. And, my blog also is read by people from Japan, Australia, Texas, Chicago etc. On the internet, we reach an audience who cannot easily access local print stories.
I agree that both posts and comments are stronger when backed by a name and a face to match. But, discarding blogs and the wonderful information and conversation between disparate elements in our community because of some nasty anonymous posts is tantamount to not reading Huck Finn because it was written under a pseudonym and used some politically incorrect language.
Kym Kemp
(Redheaded Blackbelt)
In the interest of full disclosure, in posting this letter, I made a few slight changes that make me look the intelligent English major I actually am –rather than the grammatically challenged fool my disgraphia and my limited time to self edit can make me appear.
Update: The Humboldt Herald has more to say on this article.