Hacker Creek Contractor Says, "Not Looking Good"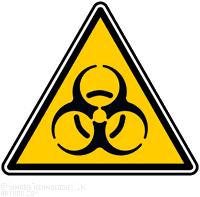 Biohazard Sign
According to Melissa Martel of the Environmental Health, the contractor on the Hacker Creek diesel spill, Jim Crook, says, "This is the worst site he has ever seen. It could be months for cleanup." So far, North Coast Environmental Construction has brought in 3 semi loads of berms and pads. Today, they requested another 20 bales to deal with the damage at the site of the indoor marijuana grow. Unfortunately, the diesel has been found 400+ yds downstream–further than they had originally estimated. "The diesel has been observed moving down the creek." The cleanup crew has just added high absorbency pillows in an effort to stop the spread.
Larry Lancaster, Hazmat inspector, explained that while water through Hacker Creek moves at a little under 1 cubic foot per sec. right now, the diesel is moving much slower. "Diesel can be held at the top of a pool. For instance, when we arrived at the site, the diesel had gone 2-3 hundred yards. Since Monday, it has moved farther down stream. But, it is moving relatively slowly." He goes on to explain, "With bacterial help, diesel will get broken down eventually but, in the meantime, it can cause damage." There has still been no damage to the frogs, salamanders, and snakes that inhabit the area but, as Lancaster points out, "Invertebrates [insects] are dying. That means the food supply [for amphibians,, etc.] is being diminished."
Martel asks any landowner downstream to please consider allowing access so the contractor can check for problems–especially if they have a road to the area. She can be contacted at 268-2235.