Talking with Tom: An Interview with Mendocino County Sheriff, Tom Allman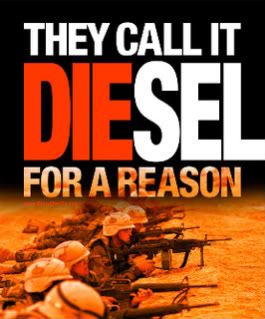 Photo: poster from the Anti war site, Blood For Oil.
(The photo may be a bit over the top but I couldn't resist the connection)
"If we don't do something to clean up the marijuana problems in this county, we risk the Feds coming in here—the National Guard coming in." Sheriff Tom Allman's voice rasps over the phone as he stresses this point.
Some Marijuana Growers Damage the Environment
According to Allman, some marijuana growers cause more damage to the environment than individual loggers. He relates how one grower clearcut the top of a mountain, planted it with sensimilla and stuck a 215 permit in the middle of the raw land. "If any of the local loggers had done something like that, they'd be in prison breaking large rocks into little bitty pebbles."
Diesel Grow Scenes—Incredible Environmental Damage
Three months ago, Sheriff Allman arrived on the site of what he called, "the most grotesque environmental damage" he had ever seen. The 5000 marijuana plant underground facility was powered by two 400 kw generators. Machines this size generally cost over $50,000 each and, because of their enormous bulk, require a trailer to pull them. A normal house generator is only about 5-6 kw–roughly 1/70 the size of these behemoths.
Generators require regular oil changes. While the exact figures for the generators on this site were unavailable, they probably had an oil capacity of around 8 gallons each (click here for pdf with specs) and were changed around every 5 days. Between the two generators, that is about 240 gallons of oil a month or about 600 gallons per growing cycle.
Where were the growers disposing of their waste?
Sheriff Allman's voice grew soft as he explained where those hundreds of gallons of oil were dumped. The growers poured the waste into "a redwood septic system—a system designed to leach into the ground. And this system was only 100 yards from the Eel River." Thus, for every cycle the growers completed, 600 GALLONS of hazardous waste oil was dumped near the Eel River.
Translating Sheriff Allman's Account into Numbers
According to the Environmental Protection Agency, "Just one gallon of used oil has the potential for contaminating 1 million gallons of drinking water." Thus one growing cycle could contaminate 600 million gallons of our water (roughly 100 million more gallons than the city of Fortuna uses in an entire year).
Many 400 kw generators burn 28.6 gals per hour each or 57.2 for the two generators together. Many indoor scenes run on 12-16 hour cycles– averaging about 14 hour days. This is 800.8 gallons per day. Each cycle is about 2 ½ months (75 days) or about 60,060 gallons of diesel burned.
Figures on how many pounds of processed marijuana such an operation can generate vary but each generator can run approximately 320 grow lights. Estimates of weight per light vary, but just under a pound would be an average of figures given. .8lbs per light times 320 grow lights equals 256 pounds per cycle..
Double that because there are two generators—512 pounds.per cycle. To figure out the amount of diesel consumed per pound grown, divide diesel by pounds. The resulting astounding number is 117.3 gallons of diesel consumed per pound grown. For the same amount of fuel, Roughly 27 acres of conventionally grown soybeans or 32 acres of corn could be produced in a year.
And of course, there is the damage to lungs. According to The National Resource Defencse Council, "studies in Southern California indicate that 70 percent of the estimated lifetime risk of cancer from air pollution is attributable to diesel exhaust. Children are particularly susceptible to diesel's health effects, because they are particularly vulnerable to air pollution. Their still-developing lungs are more sensitive, and they breathe more air (and thus more pollution) relative to their size than adults do."
To Be Continued on Friday (link to PART 2) "We're targeting known growers now." Says Sheriff Allman
Rose linked to this post with a point about Local Environmental Organizations
Cristina, local reporter and blogger (Nocturnal Nomad), with more about how locals have formed a group to try and stop the environmental damage done by marijuana growers.
Eric, SoHum blogger, with more about the subject.
Small Town Disclaimer:
Tom and I were in Student Government together in High School and the impression I have of him as a warm funny guy with an honest streak a mile wide still sticks with me. Plus my mother thinks his mother is wonderful (This last might seem a small matter to those of you raised in large cities but, in small towns, family friendships are part of the old boy network or, in this case, the My-Mom-and-Your-Mom-are-Friends network.)