A Bad Mom Moment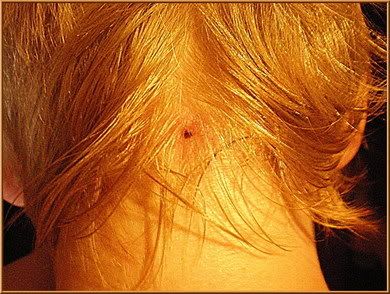 When I broke my arm for the third time, Mom didn't hesitate. She rushed me into the emergency room within the hour. But the first time, I went 2 weeks with a greenstick fracture from my wrist almost to my shoulder before she finally decided to take me to the doctor. I remember her telling me to lift my dad's heavy work boots with my broken arm. "See," she said, "It can't really be hurt or you couldn't lift this up."
Finally, we were about to go on a trip when she decided to have me checked out just in case because I still kept whimpering about my arm.
When the doctor explained how badly my arm was broken, Mom nearly cried. The only thing that made her feel better was when he explained that his own daughter had had a broken leg for a week before he believed her.
I knew my mom had done her best. I got a kick out of teasing her about child neglect but I wasn't serious.
But I found I'm not as forgiving of myself.
Yesterday, my littlest scratched at an itch and tore the body of a tick off while leaving its head in. When I saw what had happened, I quickly removed the head right there outside. But I got distracted, forgot to put Neosporin on it or clean it. My husband was rightly horrified when he found out.
Please, tell me stories about your worst parenting moments.  Maybe your stories will keep my story from thrumming in my ears.