Southern Humboldt Road Updates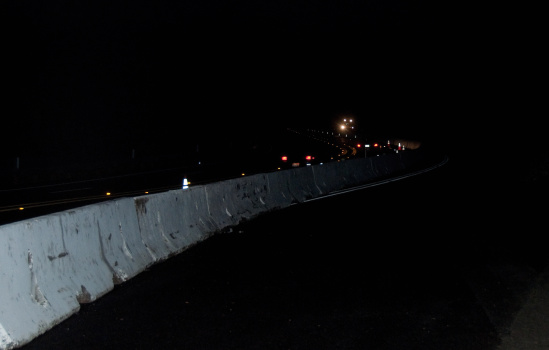 Photo taken last night (1/21/12) at Dean Creek
UPDATE 8:15 P.M.: At the Dean Creek Slide, the K-rail has been pushed out of the lane.
UPDATE 6:49P.M.: Part of the southbound lane on Hwy 1 has been opened. Signs are going up. Caltrans is reported to have the Dean Creek slide issue under control. Drive even more slowly through those areas.
UPDATE: Rockfall blocking southbound slow lane (#2 lane) just north of Mattole Road which is south of Redcrest a few miles.
CHP site has a report of a mudslide and tree blocking Highway 1 west of Leggett around Mile Marker 95 which isn't far from the Usal turnoff.
And there is a report from the Department of Transportation that the "root wad" at the Dean Creek slide has fallen pushing the K-rail out into the #1 lane.
Marty Messenger from County Roads said that the county roads are passable but there are issues so drive slowly. The east side of Garberville, especially around Dobbyn Creek might have some issues with culverts but nothing serious. A big rig accident on the Zenia Bridge tore up part of the guard rail. Because of the weather, he anticipates that there might be snow on top of Alderpoint tonight into tomorrow.
As more information comes in, I'll update.