Lodge Complex Fire West of Laytonville Reaches 550 Acres
UPDATE 10:04 p.m.: Video (provided by a reader) and photo have been added.
[youtube http://www.youtube.com/watch?v=7b0y2aL3Jbo]
Photo by Alicia Pecora below shows smoke billowing.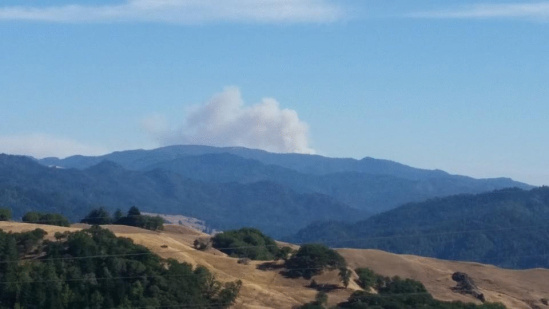 Original Post:With only 5% containment, the Lodge Complex west of Laytonville is growing rapidly. This morning only slightly over 80 acres were burning but, this evening, the blaze has raced over 540 acres.
According to Cal Fire Spokesperson Julie Cooley, "Fire is burning in heavy timber with steep, rugged terrain & difficult access. Firefighters will be deploying aggressive air and ground strategies. Dry fuel conditions, above normal temperatures and low daytime relative humidity will continue to be a challenge for firefighters."
There are already 452 personnel on the complex but more are expected tomorrow. CALFIRE Incident Management Team 4 will be arriving tomorrow to take command.