Over 20 Firearms Stolen From Gun Safe in SoHum; Owner Offers $5,000 Reward For Return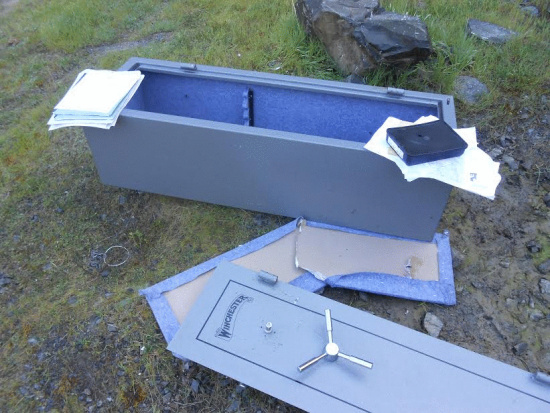 LoCO spoke with the victim in this case a bit ago. They are offering a $5,000 reward for the return of the guns in original condition. Call (707) 296-5017 if you have them. 😉
Humboldt County Sheriff's Office press release:
On 02-25-2015, at approximately 8:44 a.m., Sheriff's Deputies with the Humboldt County Sheriff's Office were dispatched to a driveway located in the 3500 block of Briceland Thorne Rd., Redway, to investigate the report of a found gun safe.

Upon the deputies arrival, it was determined the gun safe had recently been cut open and dumped in the driveway by unknown suspect(s). The deputies found paperwork inside the safe that led them to a shipping container that was stored in the 3300 block of Redwood Dr., Redway. At this location the deputies located the shipping container which has been converted into an office space. The deputies met with a victim who reported their shipping container was burglarized and a chain link fence that surrounds the property had also been cut open. It is believed the burglary occurred sometime last night. It was determined that approximately 20-30 firearms were stolen. The firearms consisted of handguns, deer rifles, and shotguns. The exact number of firearms or descriptions is unknown at this time because a family member who has this information is out of town and could not be reached.

The crime scene was processed for evidence and the investigation is ongoing. At this time there is no suspect information. Anyone with information for the Sheriffs Office regarding this case or related criminal activity is encouraged to call the Sheriffs Office at 707-445-7251 or the Sheriffs Office Crime Tip line at 707-268-2539.