Diesel Spilled When Garbage Truck Crashed Yesterday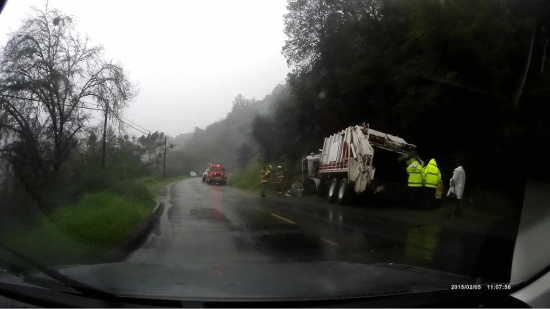 California Highway Patrol press release:
On February 5, 2015, at approximately 0940 hours, 37 year old Shiloh Viggers, of Rio Dell, CA, was driving a 1995 White GM garbage truck eastbound on Sprowel Creek Rd., east of Camp Kimtu Rd. in Humboldt County.  For reasons still under investigation, the truck traveled off the south roadway edge of Sprowel Creek Rd., subsequently colliding with a dirt hillside.   Viggers sustained minor injuries.

As a result of the collision, the garbage truck's diesel tank was punctured causing an unknown amount of diesel fuel to spill.  The eastbound lane of Sprowel Creek Rd. was closed for approximately three hours during the recovery of the garbage truck and scene cleanup.

In addition to CHP, CalFire, Garberville Volunteer Fire, Humboldt County Public Works, and Humboldt County Department of Environmental Health responded to the scene.

This collision remains under investigation by the California Highway Patrol.  Alcohol / drug impairment does not appear to be a factor in the cause of this collision.

For additional information regarding the diesel spill, please refer to the Humboldt County Department of Environmental Health.