Humboldt Students Enticed Into Math and Science Careers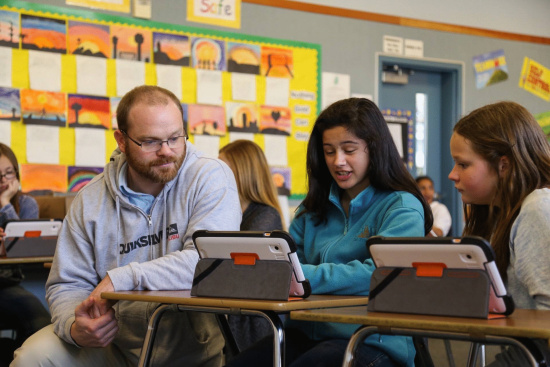 Caltrans District 1 Training Officer Matt Philp helps Fortuna students refine their projects. [Photos for this story provided by Caltrans.]
What's the big idea with bringing engineers into a Fortuna classroom? Getting middle school students excited about math and science. And the careers that need that kind of education.
How's it being done? By enticing kids to enter a national contest with a big prize.
What's the contest? The Garrett Morgan Symposium which is named in honor of an African American who invented the three-way stop signal among other things. The winners get $1,000 for their classroom. They get to attend a banquet in San Jose where they get the chance to meet senior transportation officials. (And the word is they'll also get treated to pizza.)
Who's sponsoring it? Caltrans (so possibly they have a nefarious secret agenda–they hope those students will seek careers in transportation.)
But no one in our little area is likely to win a national contest, right? Wrong! Local students have placed 3rd and first before! (See here for our 2012 winners.) Caltrans spokeperson Betsy Totten said, "Last year, the winner here won first place in state and another received an honorable mention."
How's this contest work? Caltrans explained,
"Each year, the Department of Transportation (Caltrans) sponsors middle school classes that prepare and present their sustainable transportation projects in this annual competition. Caltrans' District liaisons meet throughout the year with the Caltrans Headquarters project manager in the Division of Research and Innovation (DRI) to recruit, enroll, and assist schools as they prepare for the competition. Recruitment begins in May, just after the Symposium, and continues until October, when school registrations are due. The Mineta Transportation Institute (MTI) sends out the workbooks to each enrolled class in November, and district engineers and other transportation professionals begin to assist the classes as they prepare their projects. Projects are entered in February, and the competition, attended by dignitaries including the Secretary of Transportation, is held in late March. The winning school is selected in April and the Awards Banquet is held in their honor in June."
Do they need help? Sure, that would be great. Caltrans says, "If you have any sort of expertise or time to donate to helping Mrs. Fennell's students, contact District 1 through our Facebook page or by calling us at 707-445-6600 for details on how you can help students design the next "big idea" in transportation!"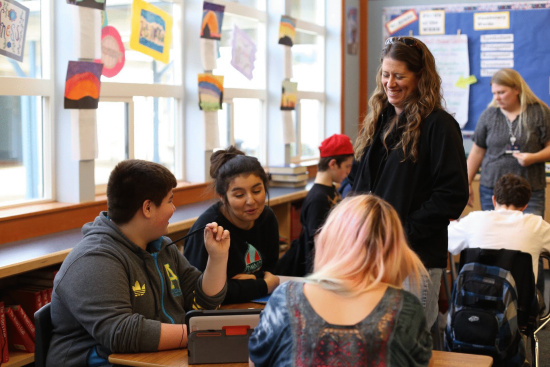 Who knew math was such fun? Caltrans Transportation Engineer Sheri Rodriguez laughs with students.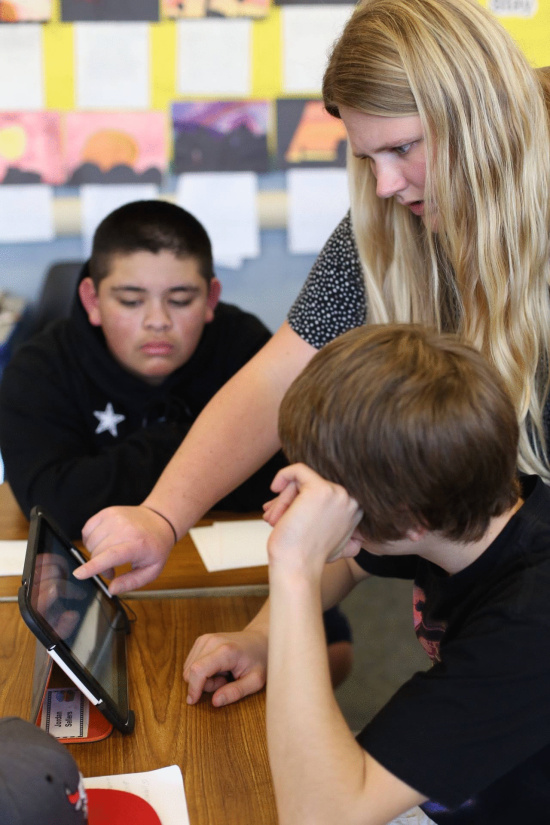 Mrs. Crystal Fennell, 8th grade teacher at Toddy Thomas explains a concept to a student.