[UPDATE 2:40 p.m.] Naked Woman Rescued Across the River From Rio Dell
UPDATE 2:40 p.m.: According to Rio Dell Police Chief Graham Hill, the woman rescued this morning was a transient woman, approximately 40 years old, who is from the area. Hill said that at this time not much is known. He stated, "We are still investigating…We are working with the Sheriff's Department to determine how she came to be there and how long she had been there."
The woman was treated for hypothermia. The Outpost will update as more information becomes available.
###
Original post: Scanner traffic and witnesses report that a naked and possibly hypothermic woman was rescued across the river from Rio Dell this morning. The woman was spotted by someone fishing in the area. Rescuers accessed the woman from below Painter Street. (See map below.)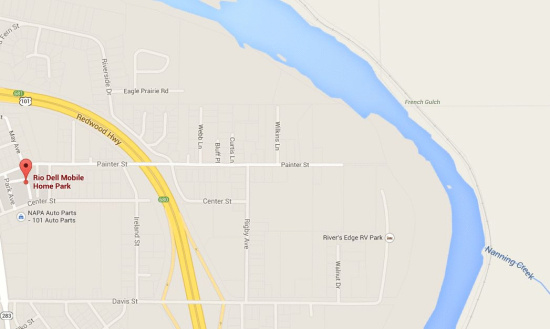 The woman was located approximately due east of the Rio Dell Mobile Home Park across the Eel River.
According to Lee Kessler, a Rio Dell resident who provided these photos, a woman fishing heard screams and alerted emergency personnel. (See photo below.)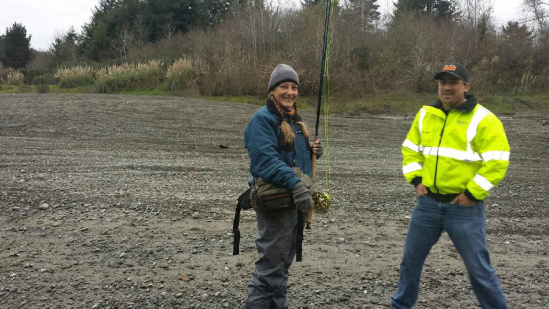 Woman fishing heard the distressed woman calling from across the Eel River.
A drift boat in the area was flagged down and used to rescue the stranded woman.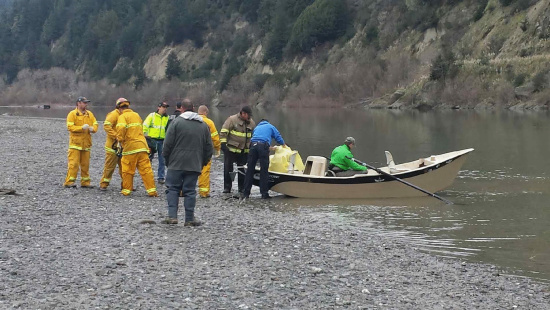 The drift boat returns to the Rio Dell side of the Eel with the victim wrapped in a yellow thermal blanket.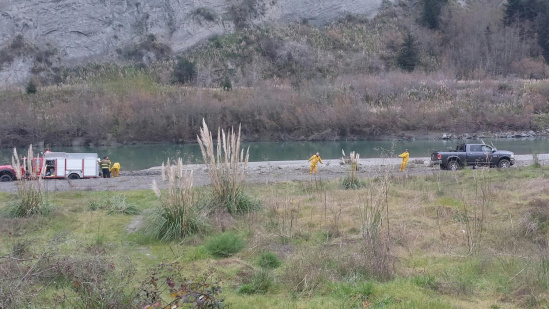 Sadly, the good guys had a bit of a problem. The Rio Dell Fire truck got stuck on the riverbank.
Thank you, rescue crews for spending part of your Sunday helping this woman!