Local Resident Rescues Driver of Truck in Fiery Two Vehicle Accident Today
[youtube http://www.youtube.com/watch?v=f9ONkRGw-co]
Today, the driver of a big rig which burned to the ground after apparently being struck by another vehicle near Benbow was rescued from the cab of her truck by a Southern Humboldt resident.
The rescuer, who identified himself as Six, explained that when he approached the truck he could hear the woman inside screaming for help. Using a borrowed mag light, Six smashed the cab window and the woman escaped through the opening with his assistance.
[youtube http://www.youtube.com/watch?v=ncz7kZklwx8]
Six was splattered with oil while rescuing the driver. Fortunately, he was wearing gloves which, he said, protected him from the effects.
"That stuff was on fire," Six explained. He had to tear the gloves off (see second video) while he helped the woman to safety.
Diana Totten, a Benbow resident, said she was heading home when she came on the accident. She said, it was a "horrific scene."
"I offered to help out because I do have training," said Totten who was assisting as a private citizen. However, she volunteers as the reserve captain for Briceland Fire Department when needed. She assisted with taking care of the driver of the SUV. "The patient's condition is unknown," Totten said when interviewed around noon today.
She believes that the name on the side of the semi involved in the accident indicated that the truck might have been "delivering food for food banks or a series of food banks… ."
"This would be especially sad before Christmas," Totten said. The Outpost is currently investigating this possibility and will update with more information when it becomes available.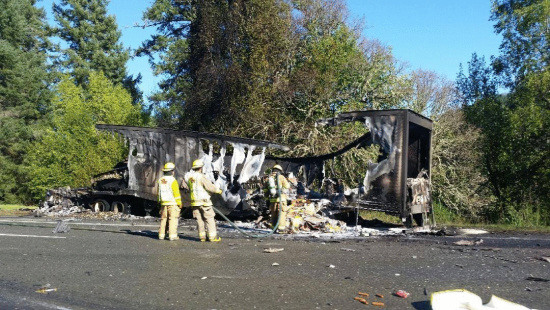 The skeletal remains of the burned big rig. [Photo provided by Alysha Valier.]
"Multiple agencies responded," Totten reported. "This took a lot of resources," she said. The California Highway Patrol, the Humboldt County Sheriff's Office, three volunteer fire departments–Redway, Garberville and Piercy, Cal Fire and an ambulance were all on scene.
In spite of what Totten described as a terrible scene with two vehicles on fire and the drivers in danger, she was pleased with the teamwork exhibited by the differing agencies.
"It was awesome to see everyone working together," Totten said. "It is good to see everyone who trains together working smoothly in something that is extremely traumatic. It made us feel united."
Previously: http://lostcoastoutpost.comHwy 101 [Now Open] at Benbow: Big Rig in Flames After Crash