Food for People Truck Destroyed in Fiery Accident Today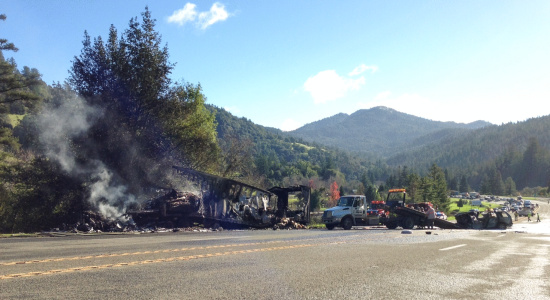 Smoldering ruins are all that remains of food meant for hungry seniors and families in Humboldt County. A big rig carrying supplies was destroyed in an accident today on Hwy 101 near Benbow. [Photo provided by Kim Hodges.]
Food for People, which helps makes sure hungry people get fed with over a dozen different programs here in Humboldt County, lost 1357 cases of non perishable food and 5000 pounds of fresh produce in today's fatal accident near Benbow, said Anne Holcomb, its Executive Director. A big rig carrying the needed supplies was destroyed when flames engulfed it after being struck by another vehicle this morning near Benbow.
The truck which is operated by Cal Emergency Food Link based out of Sacrament delivers food to rural food banks around the state. "They have been in operation for a few decades," said Holcomb.
Today, Holcomb said, workers at the non-profit began "getting worried when the truck was late. They checked LoCo to see if a slide had come down or something." Instead, she said, the fiery crash dominated the news. Holcomb said the organization soon discovered that though their driver had sustained only minor injuries, their supplies had been destroyed.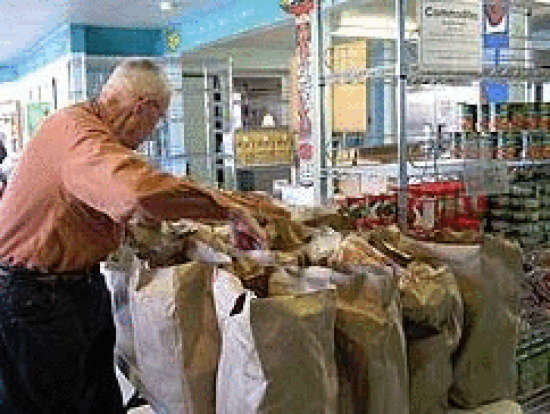 "We provide food each month that reaches around 12,000 people," Holcomb explained. "That's just under 10% of Humboldt County…Children's programs, programs for seniors, people who are home-bound, food pantries are all part of what we do." (See photo of a volunteer working at the Senior Brown Bag program on the right. This program provides a bag of groceries to 400 low income seniors every month.)
Holcomb is concerned about how this accident will affect the hungry. "We always keep some inventory on hand in the event of a disaster so we can pull from that," she said. "[However,] it will have an impact in January… ."
"The folks from Sacramento said they would try to replace all [the burned supplies] but, with the holidays, it will take a couple of weeks," she said.
Holcomb said that she welcomes any non-perishable donation that can be left in their food barrels in a variety of businesses around town. However, she said, "We have a great deal more purchasing power than the average consumer so, if they would like to donate financially, we could probably make [a monetary donation] stretch further."
Financial donations can be made online at Foodforpeople.org or snail mailed to 307 West 14th St., Eureka, Ca 95501.
Previously: