Joining Protesters Across the Nation, HSU Students Speak Out Against Racism and Police Violence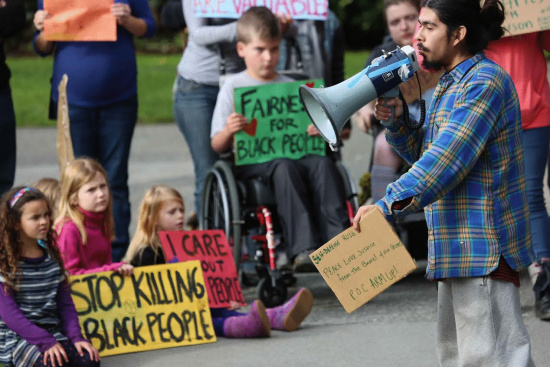 Children listen intently at Friday's rally against police violence. [All photos unless otherwise specified by Chris "Mo" Hollis.]
From a tiny blond child in purple boots cradling an "I care about black people" placard to a student with a bullhorn carrying a sign calling for people of color to "arm up," hand-lettered posters attempted to capture the wide range of emotions protesters felt at this Friday's rally on the Humboldt State University campus.
An estimated two hundred people gathered peacefully at the university quad from 11 a.m. to 1 p.m. protesting police brutality and racism. Since Michael Brown was shot in Ferguson, Missouri in August, protests have broken out across the country. Most recently when grand juries did not indict the officer involved in Brown's death or the officer involved in the death of Eric Garner marchers poured into the streets.
On Saturday, there were numerous gatherings. Broken glass and a broken leg marred the protest in Berkeley Saturday. Occupy Oakland tweeted the following photo and message around 9 p.m. on Saturday night.
Sh-t hitting the fan at Telegraph & Bancroft crowd sandwiched in. Officers, protesters clashing violently #Berkeley pic.twitter.com/xizUuEEp3D

— Evan Sernoffsky (@EvanSernoffsky) December 7, 2014
However, the local rally Friday at Humboldt State University was calm. The following photos show speakers and placards not tear gas and broken glass.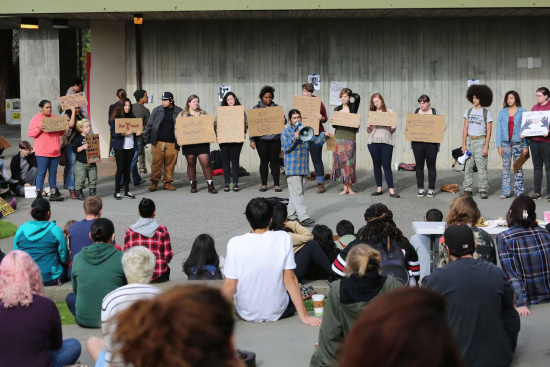 Some students hold placards while others sit and listen to a speaker during yesterday's protest.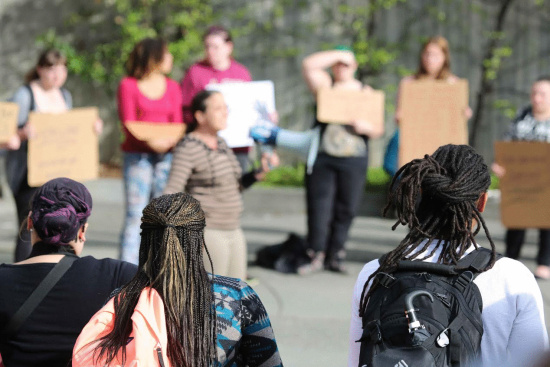 A woman speaks to the crowd of approximately 200 people.
"All blood is red but whose blood is in the streets," asked one sign.