South Fork Cubs Beat Ferndale Wildcats to Make Playoffs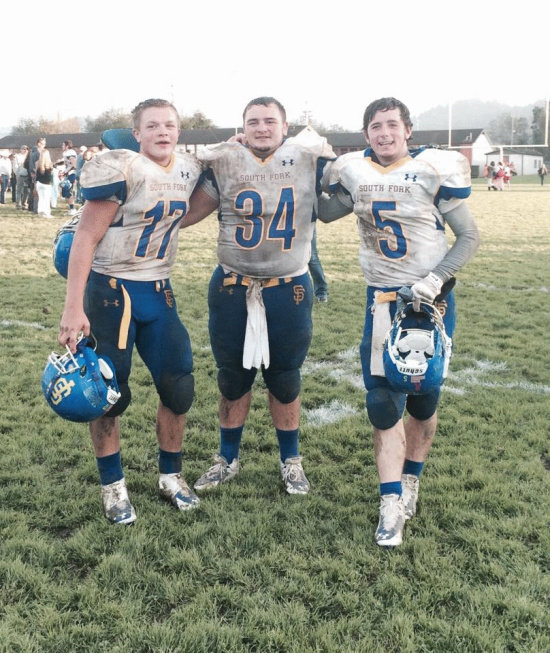 Three Cubs, Danny Savioe, Cole Moody and Troy Langely, after the game Friday. [Photographer Ella Scott]
After the South Fork Cubs win Saturday over the Ferndale Wildcats, Southern Humboldt was ecstatic. "It's been 9 years since we beat Ferndale," said Assistant Coach Karl Terrell of the South Fork Cubs. He explained that part of the jubilation came from breaking a losing streak against the other team and part came from the fact that the Cubs will now get to play in the Division Five North Coast Section playoffs.
Today, it was announced that South Fork will play St. Helena (the third seeded team in the NCS.) The game will be played at St. Helena's field on Friday, November 14 at 7 p.m. Ferndale wasn't bumped out of the playoffs by South Fork's win and will be playing St. Bernards on their home turf, Saturday, November 15 at 1 p.m.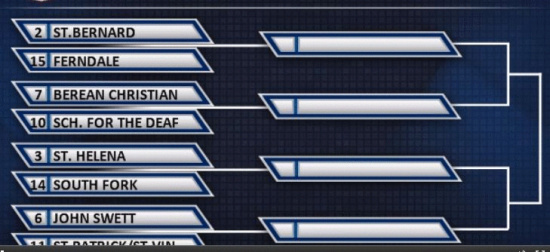 Terrell was excited by the win. He explained, "I haven't been in the playoffs since 08." He credits this year's success to having 12 seniors–half of whom have been playing varsity for four years. "I think the seniors led the way–their knowledge and experience was important. They play with a lot of heart."
In addition, Terrell said that three junior varsity players were brought up into varsity for last night's game. Terrell said that these players, Sean Sweeny, Ipo Savoie, Scott Coffelt, were very helpful. "We felt they could help us and they contributed well."
Terrell said that last night's game was a nail biter. At one point, "we fumbled the ball on the 1 yard line," he explained. "The game went back and forth…With one minute left on the clock and Scotty Coffelt made a play and we were able to run the clock out."
Terrell said it has been a tough season. "We've had our ups and downs and injuries. But for the last couple weeks, the players started to believe they were a good football team. [However,] we lost two kids to grades this week."
In spite of that, Terrell believes the entire team worked well last night. "Props to the whole team and the coaching staff," Terrell said. He credited Head Coach Andy Olsen who graduated high school at South Fork in 1999. Olsen, he said, is young and very energetic.
Terrell says the team plans to add some more players from the junior varsity team for next week's game. He says the coaching staff and the players are excited to face St. Helena. "It is always a goal every year to make the playoffs," he said. "We'll give South Fork a good showing. Something for Southern Humboldt to be proud about."
Current Roster: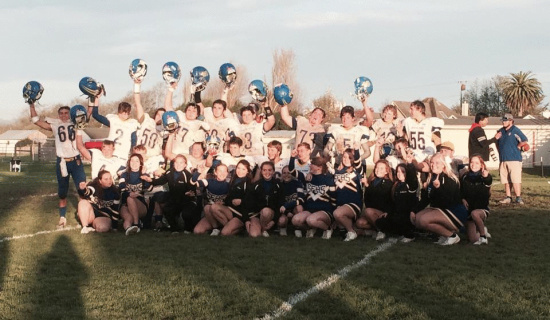 Cheerleaders and team players gather for a jubilant group photo. [Photo provided by Ella Scott.]