The Grins Say It All: CCUSH With Generous Support of Southern Humboldt Community Donates Money and Supplies to 15 Local Schools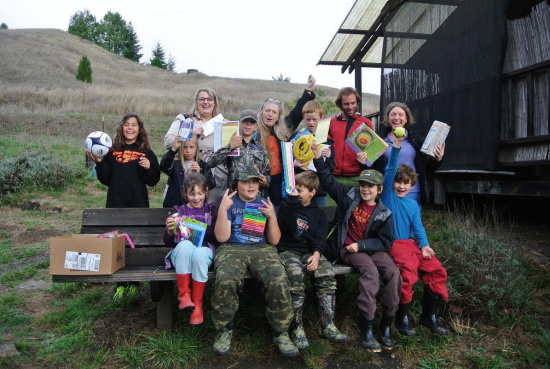 A representative of CCUSH presents a $250 check as teachers and students from the upper grades at Salmon Creek Community School hold items from the donated box of supplies.
A supply drive for Southern Humboldt schools by CCUSH (Community Credit Union of Southern Humboldt) was overwhelmingly successful this fall. From crayons to soccer balls, local residents dropped of brand new items at the credit union to be donated to local schools. (See photo below.) They also dropped off cash which the credit union matched.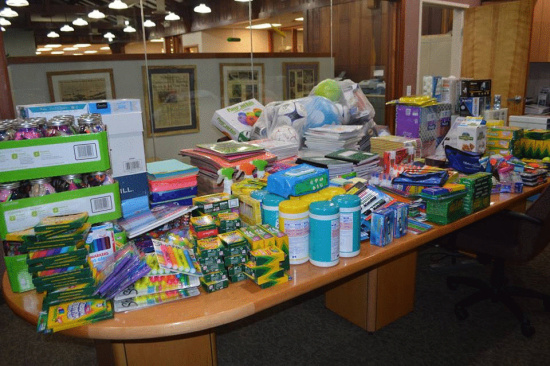 Donated items covered a large table.
Shon Wellborn, the CEO of CCUSH described the experience of delivering the items and a $250 check each to 15 schools in the Southern Humboldt/Northern Mendocino area as "awesome!" She wrote,
From Leggett Valley (their garden has a sign "Today Garlic, Tomorrow the World") to Casterlin, from South Fork to Whale Gulch, from Whitethorn ("We didn't even receive eraser heads for pencils this year", "Well, check your box, we have 3 dozen for you") to Salmon Creek (the challenging road leads to breathless beauty), it's been quite an interesting delivery process.
Although this was the first year of the drive, CCUSH plans to make it an annual event. Wellborn was impressed that the community "embraced it with such enthusiasm." She said that she choked with emotion "when I realized that we had collected more funds" than expected.
"[T]he joy of actually delivering the supplies and presenting the checks to so many outlying schools (not all within the recognized school district)," she said. "[T]he outpouring of appreciation for such basic things ….. these are some of the things that have filled my heart with such joy and sustained my hope for the future."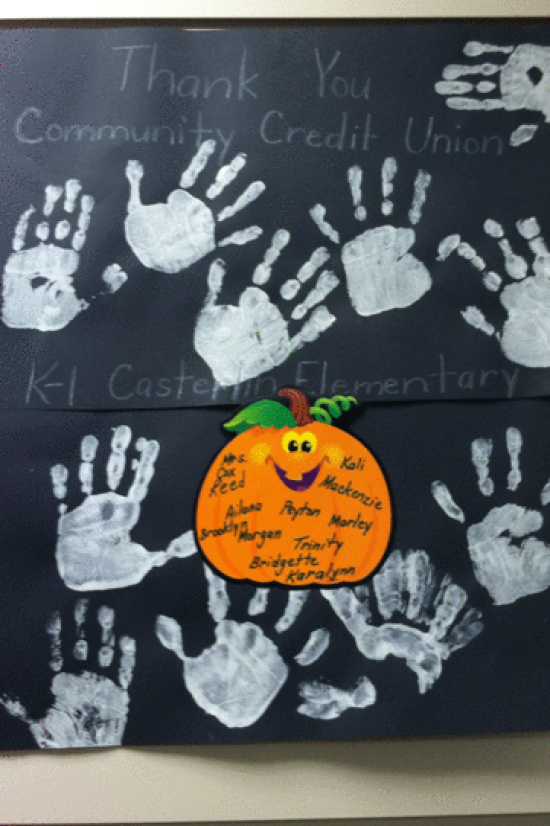 Casterlin Elementary K-1 Class sent a thank you poster to the Community Credit Union of Southern Humboldt.
Note: This reporter's school is featured in the top photo and benefited from the donations.