[EPD Finds No Victim, No Gunshots] Law Enforcement Barricade on Henderson, Possible Shots Fired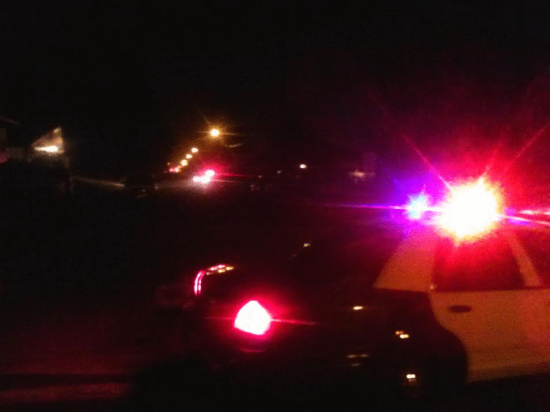 Eureka Police Department blocking Henderson.
UPDATE 11:25 p.m.: At the scene of the incident, our intrepid editor, Hank Sims, spoke with Chief Andrew Mills of the Eureka Police Department (EPD.) Mills told Sims that his officers had responded to several reports of a person screaming, "I'm shot. I'm shot." Reports from neighbors included hearing several loud bangs. (Sims reports seeing seven officers are on the scene along with a K9 unit. )
When EPD arrived, Mills said his officers "cleared the house." They did not find any victims or discover any evidence of bullets being fired. However, several of the people at the home had nerf guns in their pockets. Apparently there was a party on Henderson tonight.
###
Original Post:
We have a developing situation. Scanner traffic indicating a report of shots fired just before 9:30 this evening in the 1700 block of Henderson in Eureka. Hank Sims who is on the scene is reporting that Henderson is closed between "R" and S"" Streets.
According to our local Broadcastify, which hosts scanner traffic, "Eureka (CA) Police working a possible barricaded suspect incident. Initial call was of "shots fired" and first officers arriving heard a woman screaming inside the house. CHP and Sheriff's assisting. 4 people still inside, several others already out."