Lodge Fire Marches Northward, Residents Urged to Register Phones for Reverse 911 Calls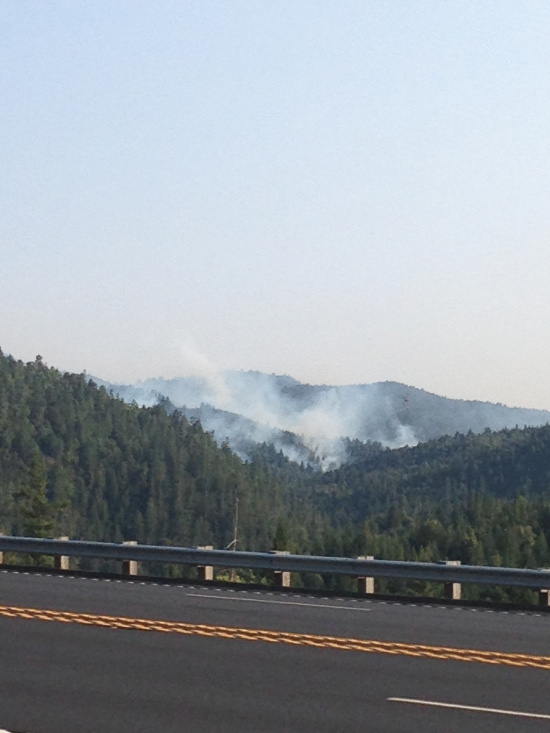 Seen from Hwy 101 south of Leggett, smoke from the Lodge fire pours over rugged hills. [Photo from a reader]
The Lodge Fire in northern Mendocino marched northwards again today. Now it encompasses 4300 acres of which only 20% is contained. 43 structures are still threatened by the slowly advancing flames. Most of them are located in South Leggett.
More personnel arrived to battle the blaze today. There are currently 1570 people from administrators, to support staff to fire fighters in the area. The Redwood Mercantile located in Leggett have been updating their Facebook page with information on the fire. According to a post this afternoon,
[Cal Fire information officer Larry Pendarvis] told us that we can expect to see a large increase in fire personnel in the far South Leggett area today. He stated that they have the southern end of the fire very well contained and that they are now focusing on its imminent arrival in the outlying southern parts of Leggett. Cal Fire will be throwing "extensive resources" at the northern fire front, and bulldozers are already constructing fire lines… .
Capt. Gregg Van Patton of the Mendocino Sheriff's Office urged everyone to go to his agency's website and register their cell phones in the correct area so that they can be reached by a reverse 911 call. The call could be used to order evacuations in their area. (Follow this link and fill out the form.)
Lodge Fire updates may be found here and here.
Previously on the Redheaded Blackbelt: