(UPDATED, NOW OPEN) Section of Highway 36 Currently Closed Due to Accident
UPDATE, 4:19 p.m.: Well, that didn't take as long as they thought. The ol' CHP Watch indicates that Highway 36 is open one way! Your sunburned weekend is safe!
And in case you were wondering what this was all about, a LoCO reader sent in the following shots from the scene.
# # #
UPDATE, 12:08 p.m.: California Highway Patrol press release:
On Wednesday, July 2nd, State Route 36 east of Bridgeville became fully blocked when a big rig pulling a modular building became fully disabled as it attempted to negotiate a curve in the roadway.

At approximately 9:30 a.m., the big rig was traveling westbound on State Route 36, east of Bridgeville near mile post marker 37. State Route 36 at this location narrows to one lane for both eastbound and westbound traffic. As the big rig negotiated a curve in the roadway, the trailer's right side tires exited the roadway edge, causing the big rig and trailer to become fully disabled. The roadway subsequently became impassable for both eastbound and westbound traffic. California Highway Patrol and Caltrans units are currently on-scene. The CHP is coordinating with the trucking company and tow company to have the big rig and trailer removed. The CHP is further coordinating with allied agencies to ensure emergency services are available east and west of the closure.

The CHP estimates this to be an extended road closure that may extend into Thursday, July 3rd. We are making every effort to expedite the opening of the roadway and reduce the impact to the community. Updates will be provided via the CHP Humboldt and Caltrans District 1 Facebook pages as they become available.
# # #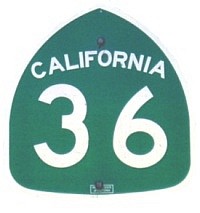 Original Post: A KWPT caller took time away from enjoying some fine classic rock out at the Mad River Burger Bar to phone up in an attempt to alert travelers that a section of Highway 36 is currently closed. CalTrans' website confirms that there was an accident 4.5 miles west of Dinsmore. Furthermore, LoCO's CHP Watch notes that a unit is at the scene where some sort of trailer is blocking the roadway.
Stay tuned for the latest info.