83,200 Gallons of Sewer Spilled/Some May Have Reached Bay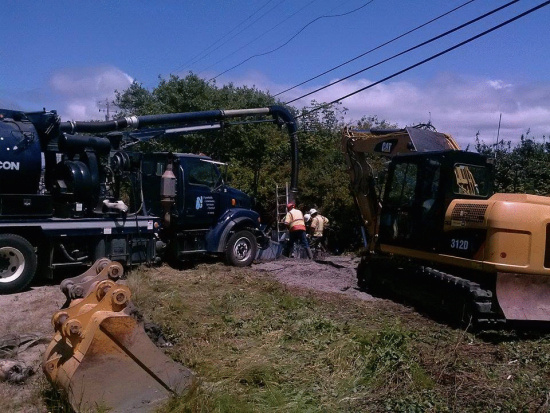 Crews worked yesterday to clean up the spill. [Photo by Hank Sims]
Humboldt County Services District Press Release:
At 8:36 a.m., Thursday, June 12, 2014, Humboldt Community Services District (HCSD) staff received notification of a potential sewer overflow in the lower Humboldt Hill area (north of King Salmon exit on Hwy. 101). Immediate dispatch of District Crews to the location enabled identification of the overflow cause and the flow was stopped by 9:30 a.m. Crews determined the cause to be a pressure sewer force main break.

Approximately 83,200 gallons spilled from the damaged pipe. There is a high likelihood that some of the sewage may have discharged into the bay. As a precaution, the California Department of Public Health closed the shellfish harvesting operations on Wednesday at 6:45 p.m. pending sample results expected to be available today, Friday, June 13, 2014. The spill area is approximately 4 miles from the possible point of bay entry to the oyster harvesting area in the North Bay. Crews worked through the night, continuing to dewater the affected spill area and return spilled sewer back into the District collection system.

According to HCSD's General Manager, District crews did a great job of reacting quickly to stop the flow and coordinate with other agencies to minimize any potential impact to the bay and the coastal environment.

HCSD was created in 1952 to provide water and sewer service to the unincorporated areas of Eureka. The District has now expanded its service area to include Myrtletown, Pine Hill, Humboldt Hill, Fields Landing, King Salmon, and Freshwater.