Light Turnout in Southern Humboldt for Serious Issues
Election turnout in Southern Humboldt was light according to poll workers. For instance, as of 6:30 p.m, the Miranda polling place which has 1088 registered voters had only had 110 people cast votes. There had been a few additional voters bringing their mail in ballots to the polling place but, as a whole, election worker Carolyn Crews said turnout had been low. She attributed it to relatively little campaigning in the area. Her fellow worker, Toni Stoffel, pointed out that a normal year might see three to four hundred ballots cast in Miranda.
Poll workers in all three Southern Humboldt locations were using a new tablet system with bar codes to enter which residents showed up to cast their votes. According to the mostly enthusiastic workers, the the system worked well. Susan Thompson, a poll worker in Garberville, said that there had only been one small glitch which had quickly been fixed.
"I was a little bit crabby at first," said election worker Donna King about having to learn the new system but she added that she quickly changed her mind. "The verification process can happen more easily now," she said with a grin. "I feel comfortable with it."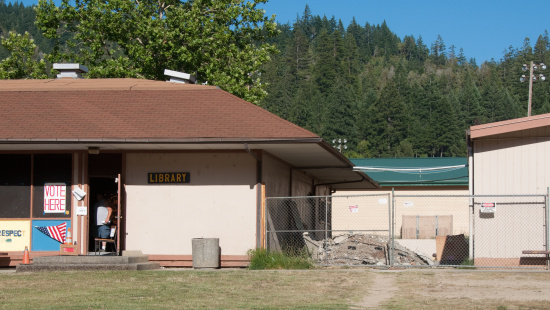 Miranda polling place at South Fork High School abuts an area where some work on facilities has already started.
Voter Janet Young, a teacher in Redway, said that the many people didn't vote in Southern Humboldt because they weren't aware of the issues. According to Young and several other voters, the two most important parts of the ballot for Southern Humboldt were the District Attorney race and Measure N. Being a teacher, Young said, Measure N, a bond authorization proposition to acquire money to improve classrooms and other school facilities in the Southern Humboldt Unified School District was very important to her. This year, she said, she had attempted to raise rainbow trout in her classroom. Trying to keep the water cool enough with the classrooms heating up on warm days was a problem. "It was all I could do to keep the fish alive," she pointed out and added, "If the fish are dying, are the students able to pay attention when they are sweating bullets?"
Young also said that that the District Attorney race was very important in Southern Humboldt. "So much is up in the air in terms of the whole marijuana question which has a huge impact in this area. It would be nice to see someone clamping down on water theft and bulldozing forests to put in greenhouses."
With low turnouts, it may be that a very few voters will be deciding what could be some very big issues for the Southern Humboldt community.