12-Year-Old Boy Replaces 10-Year-Old's Stolen Bike
Thursday, May 1, was a bad day for Antoinette Almanza's son, Haven. On that day he left his bike for just a bit at Walmart and when he returned, it was gone. The 10-year-old's transportation to school had been taken. Almanza contacted the LoCO and we posted about the stolen bike in our BOLO series.
Sadly, the bicycle has not been recovered. BUT, a LoCO reader and his son thought about the boy's plight and decided to help. According to Almanza, the pair, known only as Mike and Sky, brought Sky's used bike to Haven. "Mike and his generous son, Sky, from Arcata donated a very nice bike to my son," she explained. Sky, a 12-year-old boy, had just gotten a new bike and had planned to list his older bike for sale. After hearing about the theft, he decided instead to donate it to Haven.
Almanza said her son loves his new machine. "I think this bike is a better fit for him," she wrote in an email. Also, she said later, "The bike he had before he couldn't get up the hills but with this one he can."
Almanza appreciates Mike and Sky stepping forward to help. "It was really nice of them. It makes you realize that there are still some considerate, thoughtful people out there," Almanza said. "I like the fact that another kid decided to donate."
Mike, Sky…you guys make LoCO proud. Thank you.
UPDATE 2:04 p.m.: Mike Dronkers interviewed Antoinette Almanza on KHUM today. Listen up for more of the story.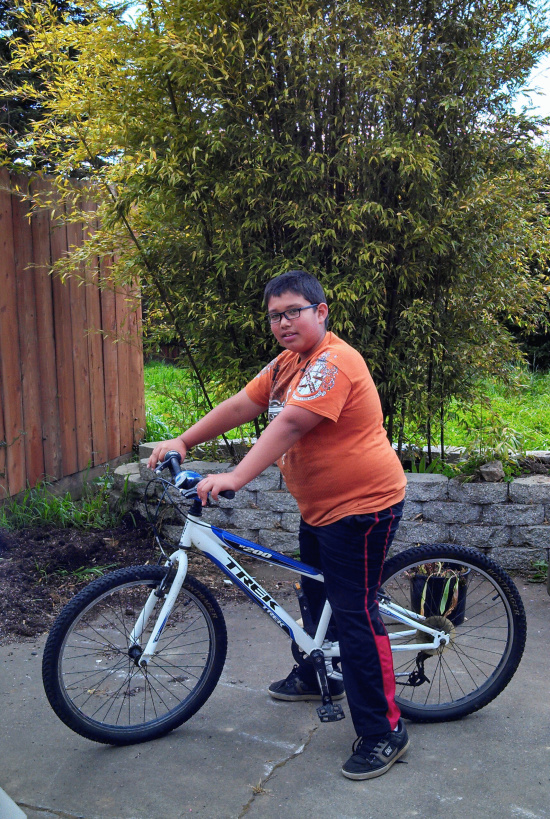 Original post misidentified May 1 as Friday.