Fundraiser for Injured Local MMA Fighter Steve Watts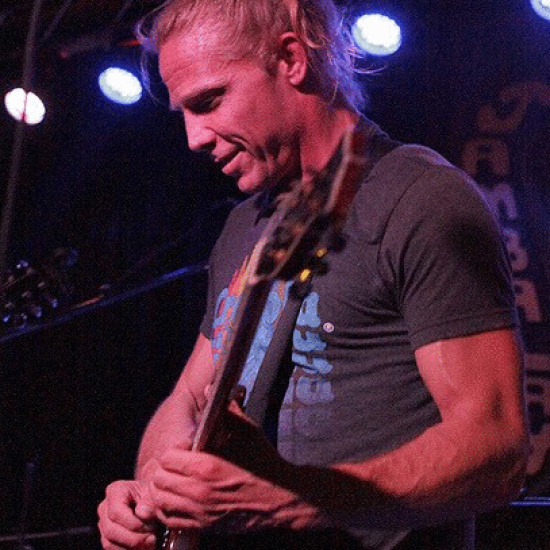 Steve Watts playing guitar. [Photo shared with permission from Watt's Facebook page]
Friends of musician and local mixed martial arts fighter Steve Watts, who was injured on Saturday, have confirmed that Watts suffered major spinal cord damage at this weekend's event. Family members have started a fundraiser for the man who was well-known in Humboldt County as a music promoter as well as being known for his athlete and musical abilities.
The community has been asked to help by donating to Watts' GiveForward account here. Cash donations will also be accepted at Mirador Glass at the Miller Business Park in McKinleyville. Over $3000 has been collected since the fundraiser began late yesterday. In addition, according to Watt's friend, Bryan Raskin, a benefit is in the works soon.
Watts was in So You Wanna Fight, a mixed martial arts tournament at the Cher-Ae Heights Casino on Saturday when he was badly injured and flown to Redding's Mercy Hospital for surgery. Results of the surgery are not yet known and Watts faces a long battle to recovery. The money donated, according to the fundraising event page, will help with Watts' quality of life as he deals with the aftermath of his injury.
The event at the Cher-Ae Heights Casino near Trinidad was a festive occasion. The photos from that night show a full house and an enthusiastic crowd. The promoter, Don Arnott, called this the 25th event So You Wanna Fight at the Cher-Ae Heights Casino.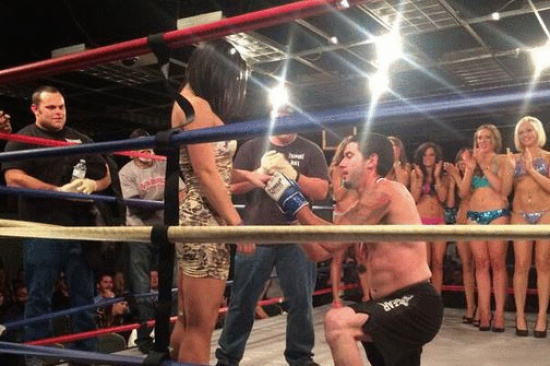 Cher-Ae Heights Casino tweeted this photo of a marriage proposal Saturday night and congratulated a "MMA Special Fight Winner" on his engagement. [Photo from Cher-Ae Heights Twitter Account.]
The So You Wanna Fight webpage (Note: the web page associated with the event though available on Sunday no longer work as of this writing) billed this tournament as "power packed with Rough Tough Bikers, Bouncers, Brawlers, Red Necks, Ruff Necks, No Necks and Guys and Gals that "Think They're Tuff"."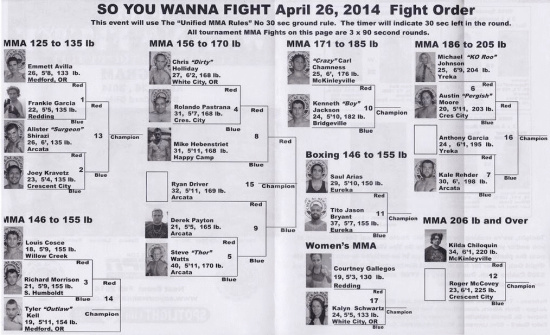 The tournament's fight order as tweeted by the Cher-Ae Heights Casino.
Steve Watts won one prior bout to reach the championship fight for his weight division. His opponent, Mike Hebenstriet, described the final moves of the battle to a reporter from the HSU Lumberjack. After a throw, Watts shouted that he couldn't move and was eventually taken motionless from the ring on a stretcher. In the end, Watts was flown to Redding where he underwent long hours of surgery. That night the Cher-Ae Heights casino tweeted, "Hats off to Steve "Thor" Watts for great energy tonight…sorry to see him hurt. Hoping that he's okay!"

Screensnip from the Cher-Ae Heights Twitter account.
Neither the casino nor the promoter have returned calls asking for more information, so questions as to insurance for or assistance to Watts from either source remain unanswered.
The fundraising page calls Watts "a loyal friend that would be there for anyone of us and now is the time for us all to rally for him." Those wishing to assist can donate at GiveForward or Mirador Glass at the Miller Business Park in McKinleyville.
Previously: