[UPDATE W/Name of Man Arrested] HCSO Raid Across From Hydesville Elementary School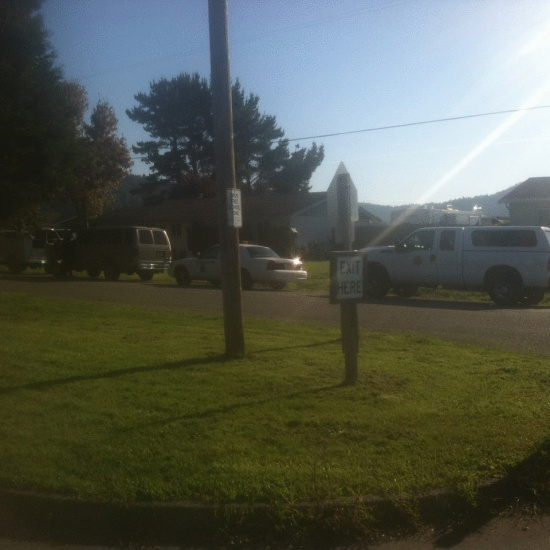 Law enforcement vehicles across from the Hydesville Elementary School. [Photo provided by a reader.]
UPDATE 4:21 p.m.: According to Lt. Steve Knight of the Humboldt County Sheriff's Office, a warrant was served in the 3000 block of Johnson Road near the Hydesville Elementary School. Officers arrested a Christopher Michael Carr, age 27.
Carr was arrested for cultivation and possession for sale of marijuana, possession of a firearm in the commission of a felony, child endangerment, illegal possession of a gun magazine, possession of an illegal assault weapon. ( Six felonies ) His bail was set at $50,000.00.
Original post:
The Humboldt County Sheriff's Office is conducting a raid across the road from the Hydesville Elementary School with officers from the Drug Task Force Assisting. According to Lt. Steve Knight, the school was notified about the incident. "We are serving a search warrant near the school," he explained. "The school is aware and the children are not in any danger."
Reportedly there are multiple vehicles and over five officers.
A parent whose three children attend the school, Althea Anker, said that 8:49 this morning she received a recorded message. "They just said that the sheriff is up here investigating an incident," Anker explained. "The sheriff office said that the school is not under threat."
The school's phones are currently down, Anker said, so the school has been unable to respond to requests for information.
A father who had just dropped his kids off at Hydesville Elementary called the LoCO's office saying, "I support law enforcement until they do something stupid like that. They could have done it, what, a half-hour earlier, and no one would be concerned."
Anker, however, said, "Obviously, there is some concern, but being as they said that the school wasn't under any immediate threat, I'm not that concerned."