Rio Dell VFD Rally Around 1 Pound Baby Kade/Ask Community's Help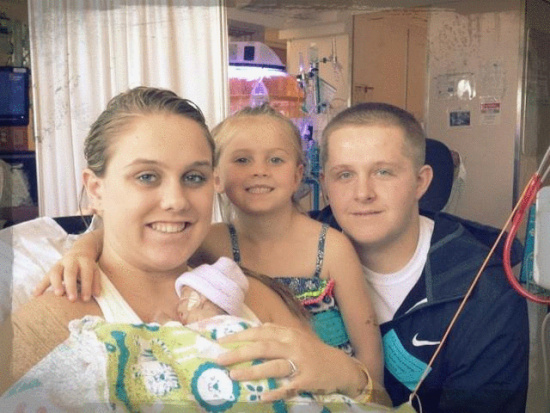 Weighing just slightly more than four cubes of butter (at 1 pound, 3 ounces), tiny Kade James was born on March 14th in the UCSF Hospital. Ever since then, this little bundle has been fighting for his life with the support of his family (shown above) and the growing community of people who care. From Wisconsin to Florida to Alaska, but, most of all from Humboldt, a support group has sprung up to help the young family.
In spite of his tricky birth in a Bay Area hospital, this baby will come home to Humboldt. His family comes from here. The Rio Dell Fire Department is putting on a fundraiser to help his family with expenses. The stepdaughter of one of their crew members is little Kade's mom, Sharena Holcomb.
A dinner, raffle and auction are being held [May 3 from 5-7 at the Rio Dell Fire Department] to raise money for the tiny tyke and his family. Tickets for the raffle and dinner are available at C&C Market, Scotia Community Health, Dr. Olkin and Dr. Jones office, Allure Day Spa or by contacting the Rio Dell Fire Dept. at (707) 764-3329. There is also an online site for donations here.
Follow the little guy's journey to health on this Facebook page– Strength for Kade. Yesterday, he reached three whole pounds! Let's help him continue to grow.