A Time for Stories: A More Intimate Memorial For Tim Olsen
SoHum community, it's a time for telling stories about Tim Olsen. Last Sunday, Briceland Fire Chief Tim Olsen received a formal sendoff–dignitaries from across the county spoke. But now, the family and friends of Tim need your stories. When a loved one has left, one of the few comforts is the warm memories that others share with each other.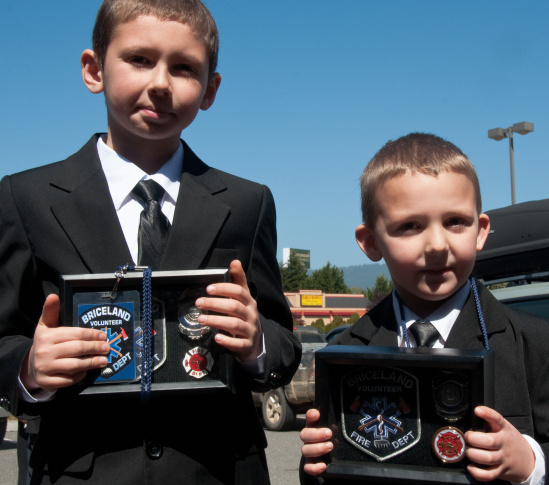 Tim Olsen's grandsons with mementos given to them by the Briceland Fire Department at his formal memorial service.
So in a Southern Humboldt style gathering at Beginnings on Saturday, April 19, all are invited to come share in the stories, the laughter (We're talking Tim, right? There's going to be laughter) and the love. Be part of creating a beautiful tribute by telling your tales of this father, husband, neighbor, friend, and all round good guy.
Tim will make an appearance via video. There will be a potluck lunch at 1 p.m. with the memorial circle at 2:30-5 p.m.. Afterwards, there will be a paddle out at the cove.
Tim's kids want to hear his stories. Come tell the tales to them and to each other. Make the memories last longer by sharing them with all who loved him.
———–