In Remembrance of Cameron: Opening Day of Southern Humboldt's Little League
Saturday, April 12, was the first day of Little League in Southern Humboldt this year …and the last day that a uniform numbered four will be given to any major playing for the group.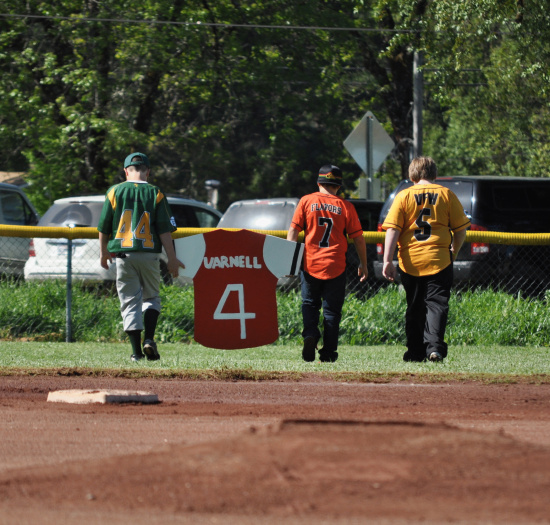 ​Elijah Roberts, Cooper Scott & Orin Paula carry out the #4 Jersey made by South Fork students. [All photos provided by Becky Crossland.]
Cameron Varnell's number four jersey was retired this weekend. South Fork woodshop and art department created a wooden facsimile to be displayed in memory of the boy who died on April 16, 2013 after battling five years with leukemia. Many of his former teammates are playing their last year of majors this season and, in Varnell's honor, wanted to retire his number.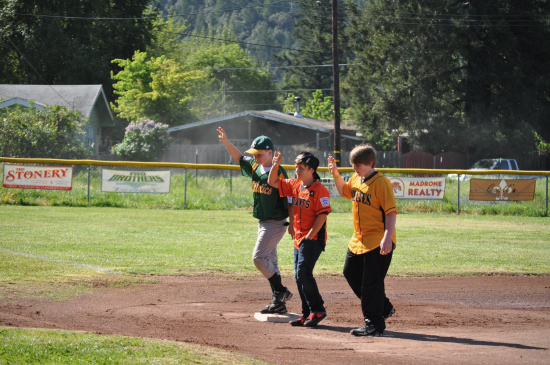 After carrying out the wooden shirt, the boys return to their families and friends holding up four fingers each in salute of their friend​, Cameron.
Every kid playing in the majors is wearing a black number 4 for Cameron. Many of the adults are wearing number four also.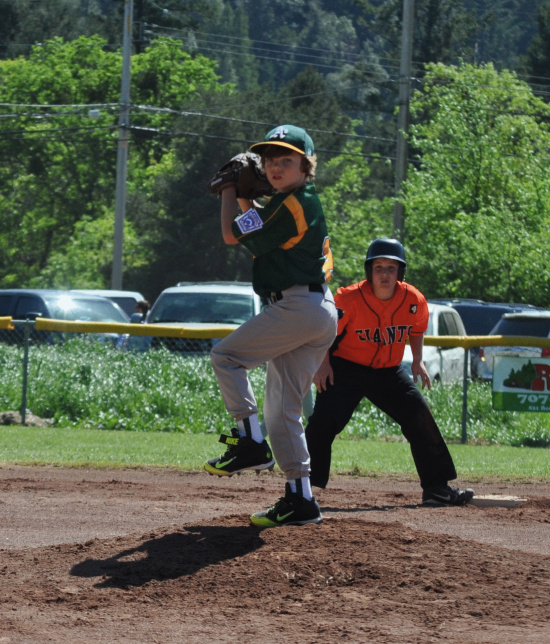 ​Zane Schaafsma pitching for the A's while Shane Kirk gets ready to run,. The number four patch is sewn above both boys' hearts.
This year, the Southern Humboldt Little League has made some large changes. There is a new batting cage on the major's playing area. The League built a new t-ball field and, with the donation of lumber from Whitethorn Construction, is replacing all the bleachers. A new scoreboard donated by Dazey's Garden Supply last year brightens up another corner.
After selling 1700 plastic water bottles two years ago, the League made a commitment to provide free filtered water for everyone and stainless steel water bottles for each player. Becky Crossland, President of the group explained that the members wanted to do their part to reduce the use of plastic. She said proudly of their new policy, "That is us at Little League trying to make the right step forward as far as the world goes."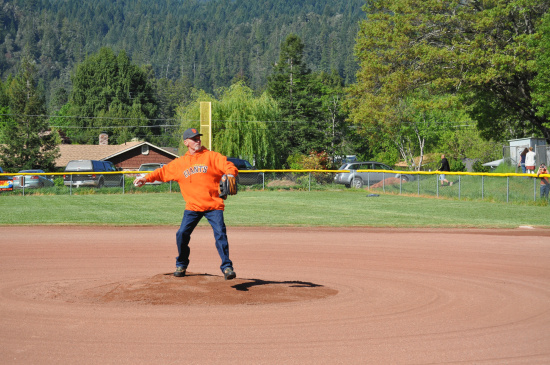 ​John VanMeter, who had been involved with SoHum Little League since it's birth, throws out the first pitch​.
From the youngest players to the oldest, each began on Saturday the process of practicing what their coaches had been helping them learn.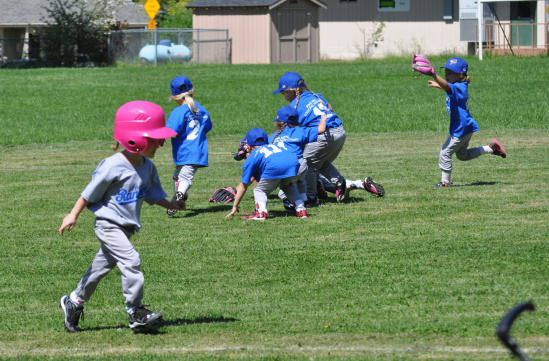 ​Casterlin Little Leaguers dog pile for the ball while a Redway Ranger runs home.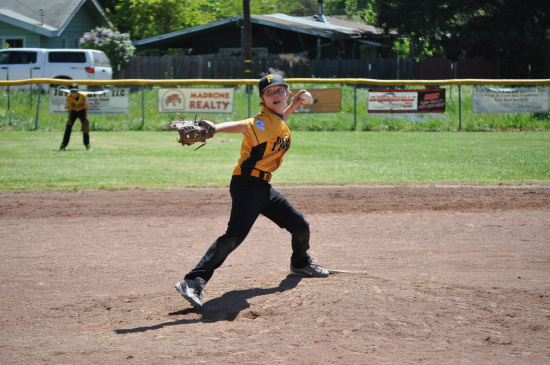 ​Ayden Butterworth-Bignon pitching for the Pirates​.
​Sean Hassal-Hass hits a solid base hit for the Dodgers​.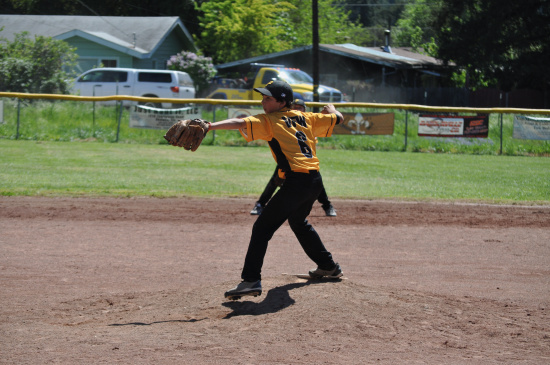 Darren Bruce of the Pirates pitching​.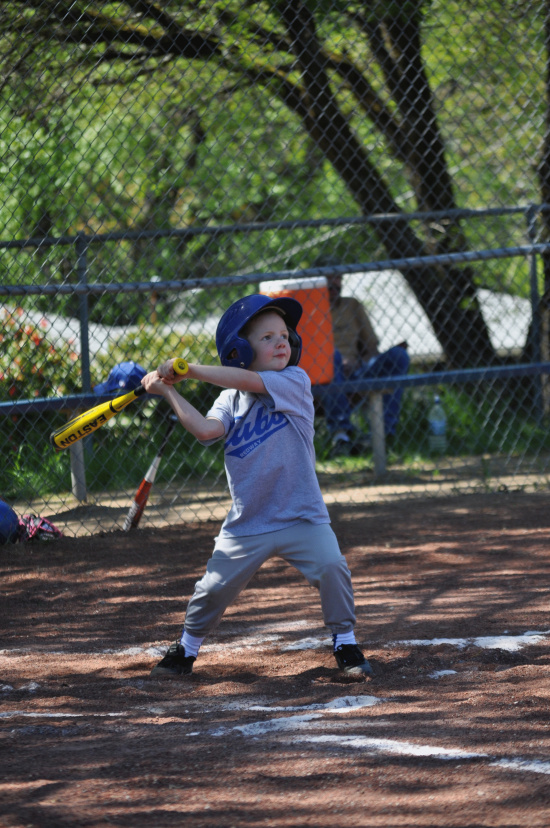 Travis "T-Bone" Way gets ready to hit​.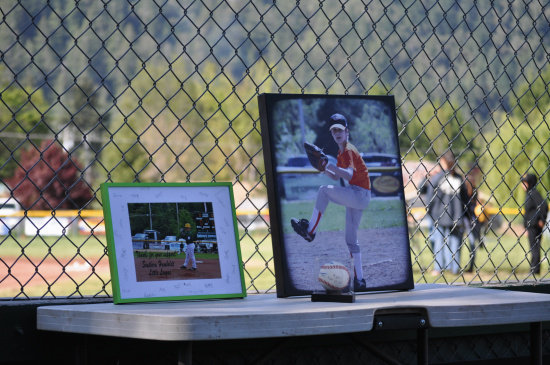 Photo of Cameron Varnell & Thank you picture for Dazey's Supply​.
A table near the field holds a thank you photo for a supporter on the left, a photo of Cameron Varnell on the right and a baseball signed by former teammates last year with well wishes for the boy in the center. The signed memento was put in a glass case and presented to Varnell's mother this weekend.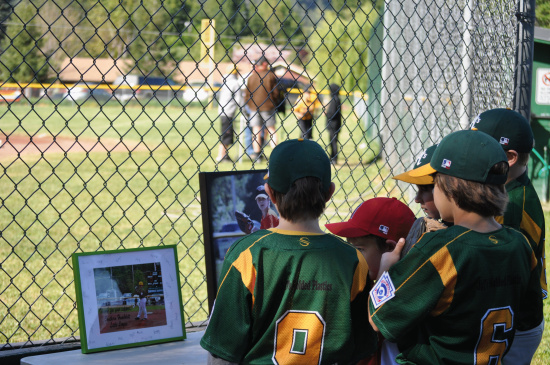 A group ​Little League players check out the photo of Cameron Varnell​.
Death doesn't often touch Little League fields. The loss of one so young last year struck cold ice into the hearts of parents and left a hole that each child struggled to make sense of in their own way.
As a fresh season begins, as flowers bloom and the sweet scent of newly cut grass wafts across home plate, this year's players have each other and a greater awareness that games, while important, are not the biggest things you can lose.