Total Lunar Eclipse Tonight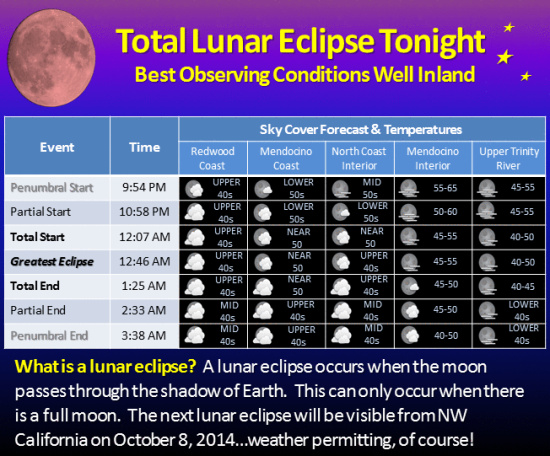 Graphic from the US National Weather Service.
In spite of the clouds which rolled in this evening, the US National Weather Service out of Eureka thinks most of Humboldt will still have a chance to view tonight's lunar eclipse. The full moon tonight will pass through the earth's shadow dimming the moon's light. When this happens, the moon often turns a rusty color or "blood red" which leads some people to call it a blood moon.
According to the graphic provided by the weather service below, the clouds are predicted to move out of the area by 10 p.m. tonight but some coastal communities may still experience low clouds which will block residents' view of the eclipse.
Right now the fog is rolling up the South Fork of the Eel River. It has reached Miranda and appears to be moving rapidly southward along the waterway.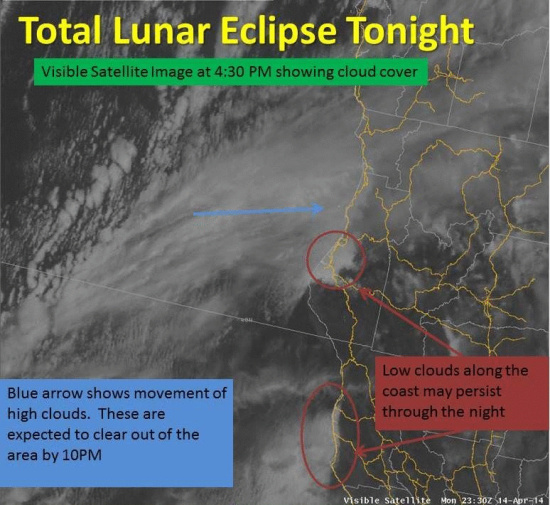 If you miss this lunar eclipse, don't worry. Another one will be occur on October 8 of this year.