Fire Fusion 420 at the Mateel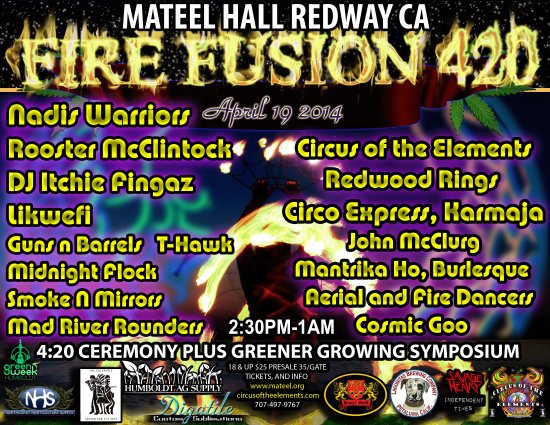 Press Release:
Circus of the Elements is proud to present our Third Annual fundraiser "Fire Fusion 420" on Saturday April 19th, 2014 at the Mateel Community Center in Redway, Ca. Enjoy three stages of live music, artists and performances with your MC John McClurg. This all day event is a great way to celebrate our unique local culture and this being our third year, we have quite a show packed full of variety and style for you! Join us again or come see the show you've been hearing about, this year on Saturday April 19th!

Enjoy Musical Performances by The Nadis Warriors, Rooster McClintock, DJ Itchie Fingaz, Likwefi(with live Aerial Glow Show), Guns n Barrels, T-Hawk, Midnight Flock, Smoke n Mirrors, Mad River Rounders and more! Live Performances by Circus of The Elements, Redwood Rings Hoop Troupe, Karmaja Tribal Belly Dance and more bring you an eclectic mix of Burlesque, Aerial, Belly Dancing, and a spectacular Fire Show by Circus of the Elements! Enjoy organic food, beer from Lagunita's Brewery, a Special 420 Ceremony and Greener Growing Symposium.

Tickets are only $25 pre-sale for this all day event(http://www.mateel.org/) and local outlets, $35 at gate 2:30pm-1am. Age 18+ event ID required. Sorry, no dogs, or outside food or drink. Many special thanks to Savage Henry, Royal Gold, NHS and Humboldt GreenWeek for their continued support.

Circus of the Elements is a DreamMaker Project of the Ink People.