Rainy Roads Cause Multiple Accidents
Southern Humboldt Fire Chief Association Spokesperson George Monroe requested that LoCO and RHBB advise drivers to be more cautious during this rainy weather. He pointed out that there had been several accidents today.
One of these accidents, a head on collision, closed Shelter Cove road above the General Store temporarily this morning.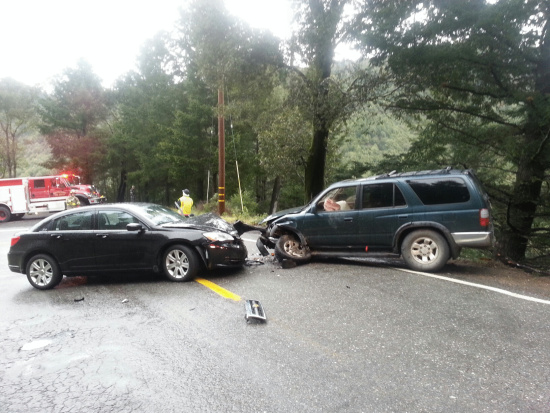 The photo above was provided by Shelter Cove Fire Department. Monroe sent in photos from another accident that occurred this afternoon on Salmon Creek Road.
[deleted]
There were several other vehicle crashes. Most of them, fortunately, were no injury. Nonetheless, they didn't brighten anyone's day.
Monroe asked us to remind all Humboldt residents to drive more slowly and be alert to hazards in the road.