This Is Only a Test: Tsunami Warning Communications Test This Wednesday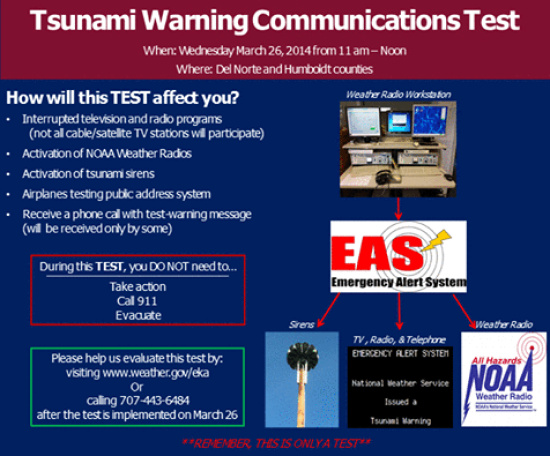 Graphic from the US National Weather Service.
Press Release:
The annual tsunami warning test will take place in Humboldt County on Wednesday, March 26, between 11:00 a.m. and 12:00 Noon. The purpose of this test is to ensure the tsunami warning system works properly in the event of a real emergency.

If you are watching television between 11:00 a.m. and 12:00 Noon on Wednesday morning, expect to see a crawler at the bottom of the screen indicating that a tsunami warning has been issued and hear a voice indicating that it is only a test. If you don't hear the TV audio, please remember that this is only a test and you do not need to take any action.

If you are listening to the radio you will hear alerting tones followed by a voice announcing that the test is occurring. If you have a NOAA weather radio with the Public Alert feature the radio will automatically turn on and you will hear the same message as broadcast on radios.

In some areas, you may also hear the sounding of a tsunami siren, or you may hear an airplane testing its public address system.

Note that monthly testing of all outdoor sirens in NW California will begin in May 2014.