Humboldt, We Have an Egg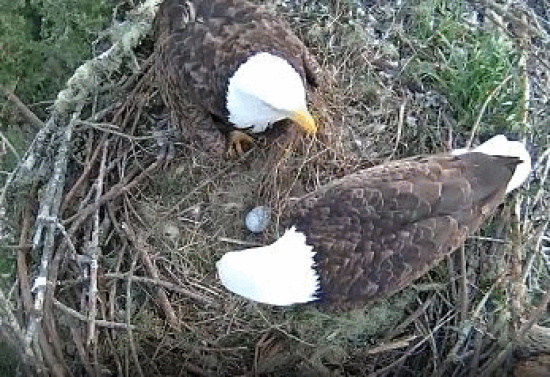 Screengrab from the Humboldt Bay Eagles cam taken about 7:25 this morning.
Good morning, Humboldt! Our avian stars have added an egg to their aerie. These international celebrities excited the paparazzi [] when the first viewer of the nest cam claimed to have seen an egg while it was still dark outside. Using the bright moon, fans began taking screenshots and posting them to the Facebook fan page claiming to see an egg. Whatever doubts those without eagle eyes had were dispelled as sunlight lightened the nest.
Viola! The egg.
UPDATE 9:18 a.m.:
Press Release from Humboldt Bay Eagles Biologists:
The Humboldt Bay bald eagles laid their first egg of the 2014 nesting season on Wednesday March 19, 2014 at approximately 10:40pm. Aided by the light of the moon, viewers were able to watch the momentous occasion live on the local Eagle Cam. Bald eagles lay 1-3 eggs, 2 being most common about 2-3 days apart. Experienced eagles such as Mr. and Mrs. HBE, as they are affectionately known, will likely delay incubation while waiting for the second egg; a behavior that allows the eggs to be hatched closer together, usually resulting in less sibling rivalry. Once full incubation begins, the eggs will hatch approximately 35 days later, give or take two days. The video of the early morning footage where we were able to confirm the egg being laid was captured by viewer Vickie Harley available athttp://www.youtube.com/watch?v=XzvhDl73BVI&feature=youtu.be . The Cam viewers will continue to be on "egg watch", looking for a second egg to be laid.

The female will be the primary incubator, however, it is not uncommon for the pair to share incubation duties. The male at this nest is known for not always wanting to give up his shift when the female returns from her break. The male will primarily bring in prey deliveries and help defend the nest and its precious contents from potential intruders such as other raptors and ravens.

The Humboldt Bay Eagle pair have been nesting on north Humboldt Bay since 2006; the first pair to return to the bay in over 40 years. They have fledged at least 12 young, including the famous "Kyle" and "Stormy" in 2013. The location of the nest is being kept under wraps to protect the nest as well as the privacy of the landowners.

Thanks to generous donations from the HBE community, the nest now has two cameras including a Pan-Tilt-Zoom (PTZ) that allows unprecedented views of the nest as well as a few favored perches. The cams would not be possible without the private landowners' willingness and support in sharing this nest with the world. Camera installation, maintenance, streaming, and nest monitoring is provided by a collaborative effort of the Institute for Wildlife Studies, Jim Campbell-Spickler of Eco-Ascension Research and Consulting, and Sandra Hunt-von Arb of Pacific NorthWestern Biological.

To view both Live cameras go to http://www.iws.org/hbe.html

To keep tabs on the HBE nest join the Humboldt Bay Eagle Forum at http://w11.zetaboards.com/HBE_Forum/index/ or their fan club on Facebook athttps://www.facebook.com/groups/HumboldtBayEagles/
Previously this year: