Swarm of Smaller Earthquakes Follow Last Night's 6.9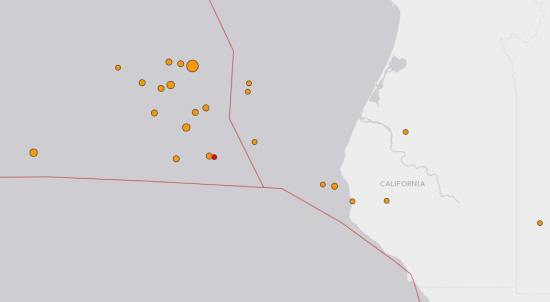 As of seven this morning, a series of twenty quakes all larger than 2.5 have followed behind last night's 6.9 earthquake off the North Coast. Two have been larger than 4.5.
The 6.9 earthquake struck at 10:18 p.m. about 50 miles west of Eureka. This event rolled across the North Coast leaving little damage in its wake. The strongest movement reportedly lasted about 30 seconds but there are no indications of serious damage.
The Redwood Coast Tsunamis Workshop (RCTW) states on their Facebook page that there is a 90% chance of an aftershock magnitude 5 or larger occurring in the next week and "a 5 – 10% chance that an earthquake of equal or larger magnitude might occur." Most of these, however, will likely be located near the area of yesterday's main quake and won't be felt by North Coast residents.
Though there was no tsunami danger during this event, the RCTW urges everyone to "dust off your emergency plans, resupply your emergency kits and, if you live near the coast–KNOW YOUR ZONE!" Maps for tsunami zones are posted here.