One DA Candidate Addresses Growers' Concerns at Weekend Event
Update: Audio from KHUM interview here.
As the June 3 primary appears on the horizon, candidates for district attorney are beginning to speak publicly about their vision for the future. On Saturday, three of the four campaigns were represented at an event in Southern Humboldt. The occasion, a fundraiser for an anti-rodenticide crusade, featured the pro-pot bands Los Marijuanos and the Camo Cowboys. This allowed a glimpse of what at least one candidate, Arnie Klein, feels about the marijuana growing community and its issues.
Two candidates, Arnie Klein and Allan Dollison, were present, and Kathleen Bryson attended, representing a third candidate, Maggie Fleming. Elan Firpo did not attend. In what would seem to be a uniquely Humboldt event, Arnie Klein and his staff gave away lighters and rolling papers (see photo below). Allison Edrington, Klein's media consultant, explained:
We gave away lighters and papers as a way to start conversations with folks who attended the event, along with flyers about his stance on cannabis and other issues. The lighters and papers were pretty popular — we completely ran out by 10 pm and Arnie got to talk with a lot of people about their concerns as a result.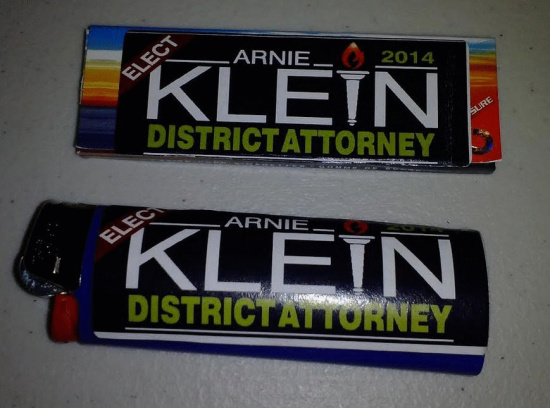 While Dollison spoke first at the event, we have been unable to access a copy of what he said.
Klein followed Dollison. Klein, in this short video clip provided by his campaign, criticizes environmentally insensitive grows but appears to be telling growers who are not damaging the environment that they have nothing to fear from him if elected. He states:
I'm telling you as DA of Humboldt [that] what I'm interested in is people who are violent — not the growers… . My priorities will be the nature, [that] our environment stays clean and that the growers get to live their own lives because there is a lot of violence that I want to go after — rape, robbery and murder. I don't care about the growers.
Those interested in learning more about Klein can hear Larry Trask interview him today at 5 p.m. on KHUM. Klein also has a meet-and-greet event tonight in Eureka.
Dollison will be available March 11 in Fortuna. His campaign can be followed here.
Flemming's campaign can be followed here.
Firpo's campaign can be followed here.