Rain and Snow Predicted for Weekend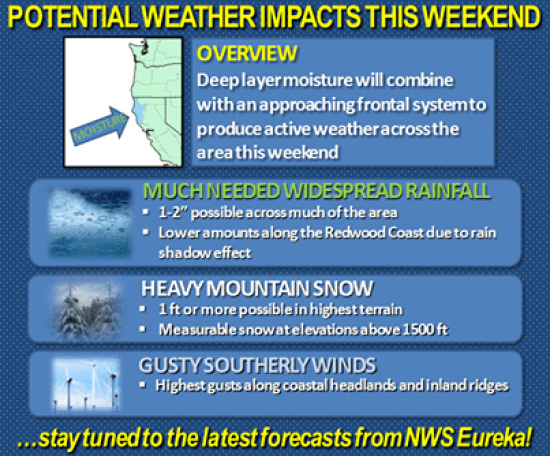 Graphic from US National Weather Service's Facebook page.
Wetter weather is on its way–at least temporarily!
According to the US National Weather Service, rain and snow are likely this weekend. Over one inch of rain in lower elevations and one foot of snow in mountainous areas could fall. (Check your local forecast here.)
Measurable snow could occur as low as 1500 feet.
Reg Kennedy, a hydrologist with the National Weather Service in Eureka, explained, this does not mean the end of the drought conditions but it could mean that ponds and tanks designed to capture rainfall could begin to fill. Because the ground is so dry though, tanks and bladders that fill from ground water will not yet get much liquid as much of it will be absorbed into the dry soil.
The amount of rain, Kennedy said, will vary a bit also depending on where you live. "In general, if you are in higher terrain that can bring more precipitation than low terrain."