Humboldt School Working on Film Production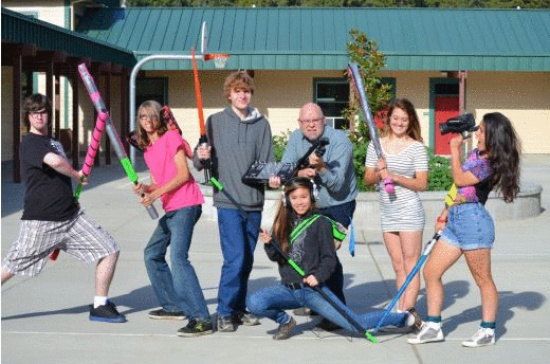 The students in the tiny media production class at South Fork High School (all six plus the teacher are shown in the photo above) have not only written their own script, and organized making their own movie, but, they've included students from across campus in their production plans.
"It is a small class," explained teacher Robert Standish who has a degree from Humboldt State University in film production and who has worked in advertising. But, he says, "We're drawing in kids from many other classes. There are kids from the drama class to be actors in the film and the music class will help compose some original music… . The total cast and crew will be over 30 people."
The production the students are working on is a 30 minute comedy featuring the story of a misfit kid, Neil, trying to find his place among a group of equally awkward LARPers (people who play live action role playing.)
According to student Ryver Gribi who helped create the story idea, Neil spectacularly fails at his first attempt at LARPing. Gribi described Neil's reaction,
He gets discouraged…. [But] he has this plastic spider that he uses to give himself courage.

Then the spider gets taken… .

[However,] Neil finds out that there is courage in himself all along. He himself gets the courage to lead his team for victory even though they had always failed before.
The administration, Gribi says, has been supportive and arranged for a few field trip days to allow on location shooting of some of the scenes. However, the group needs money.
Standish says, "This is a very talented group of kids but we really need help in paying for items–everything from batteries for the camera, to costumes, to sets and props." The students and their teachers have managed to gather some supplies but they need more. "We think we can do it with the $2500 we're requesting," Standish stated. However, as the students wrote in a fundraising letter, "We are in dire need of an immediate $500 for a better video camera… ."
The class, the letter says, hopes to shoot the scene and edit in time to present the finished piece not only to their fellow students but also "to enter the video in several local film festivals."
Those interested in supporting their endeavors can make checks out to: South Fork High School Multi Media Club and send them care of Robert Standish to:
6831 Avenue of the Giants
PO Box 188
Miranda, Ca 95553
A list of contributors will be added to the film credits.
(Photo provided by South Fork High's media production class.)