Road Conditions Improving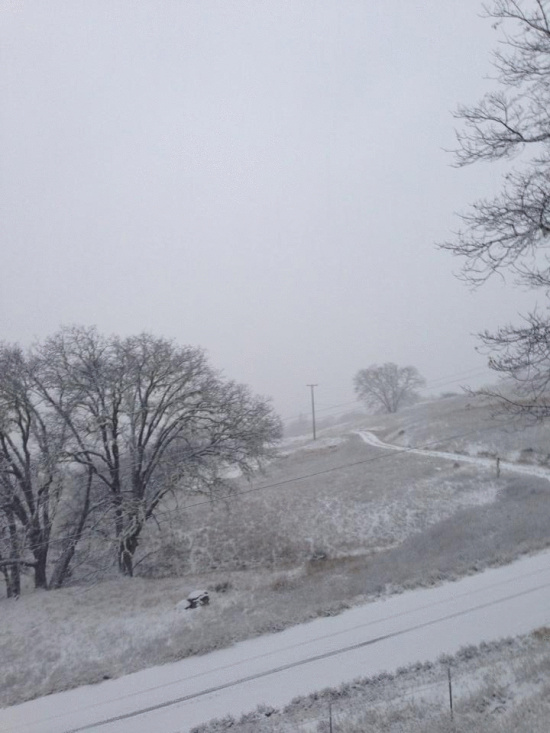 Yesterday, US Forest Service Roads off of Hwy 36 made a winterwonderland for snow seekers (Photo by Jada Krueger.)
UPDATE 8:40 A.M.: Marty Messenger of County Roads wrote on SoHum Awareness, "At 8:15am sanding spotty ice on Whitethorn Rd. Jct. To Monastery, 18 deg @ Whitethorn school."
Original post: "Things are looking pretty doggone good on the west side of 101," says Marty Messenger. "Shelter Cove/Briceland Thorn Road and Chemise Mountain Road are passable. There is some spotty ice on either side of Paradise Ridge that has been sanded. The bridges have all been sanded as a precaution."
Messenger is heading out Whitethorn Road next and County workers will be out Alderpoint in the next hour.
The county roads are in pretty good shape in Southern Humboldt. It is cold however. According to Messenger, Ettersburg was 21 degrees at 6 A.M, at 6 :15 A.M. Whitethorn Post Office was 18 degrees, at 6:30 Paradise Ridge was 22 degrees.
101 has no traffic restrictions.
Hwy 36 has chains or snow tires required from one mile east of Bridgeville to the county line.
Hwy 299 requires chains or snow tires on 4 wheel drive from 16 miles east of Blue Lake to 4 miles west of the junction with 96.
The Avenue of the Giants has various roadwork but no weather related conditions.
For highway conditions got to the Caltrans website.