Trustees Looking at Stopping Deliveries at Redwood Memorial–Public Meeting Tomorrow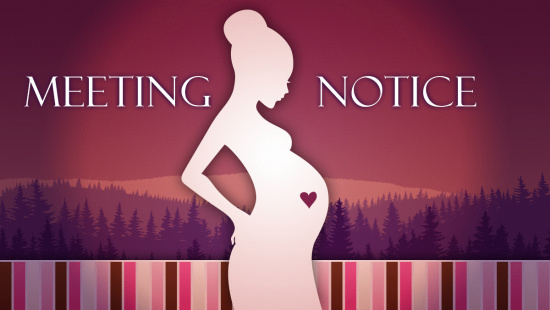 Graphic from the Facebook event page.
Will the southern half of Humboldt still have services for women facing deliveries? A meeting tomorrow will help determine the fate of obstetrics for much of the county.
"We, as a community, hope to have our voices heard by St. Joes' Board of Trustees who, as we understand, are considering closing the obstetrics unit [in Fortuna]," explained Rod Allen, Board Chairman for the Fortuna Chamber of Congress.
Redwood Memorial in Fortuna and St. Joseph's in Eureka are operated by the same organization. The organization is considering closing the obstetrics unit in Fortuna.
"We're looking at several options," noted St. Joseph's Health spokesperson, Leslie Broomall. "This one seems to be the one that keeps coming to the forefront." The organization is also looking at several other options that might include having a main obstetrics unit in Eureka and some sort of smaller unit in Fortuna. Another option, Broomall said might be to close the Eureka unit and keep Fortuna's site open.
The problem, Broomall explained, is that "we need more OB/GYN's." There are very few in the county and many of them are nearing retirement age. Broomall says that it is challenging to recruit OB/GYN's to the area. Recruiting for two programs is even more difficult.
Though the number of births has been dropping in the county, the number of OB/GYN's to serve pregnant women is critically low. "It is not just a Eureka/Fortuna problem; it affects the whole county," Broomall said. There will be no obstetrics program south of Eureka.
A community meeting is being held tomorrow at 12 noon at the Riverlodge in Fortuna to discuss the situation. "It will be our chance to say, 'Look, this is why we are opposed to closing this program,'" Allen noted. "We have a number of concerns here in Fortuna. For one thing job loss…But we feel that people all over the Southern part of the county will be ill served by having to go…through Eureka to St. Joe's to have babies."
There is an online petition with more than a 1000 signatures about the possible closure here.