Tracking Anna: A Family Searches for Clues Today–The Birthday of Missing Hiker, Anna Rodriquez Flasnik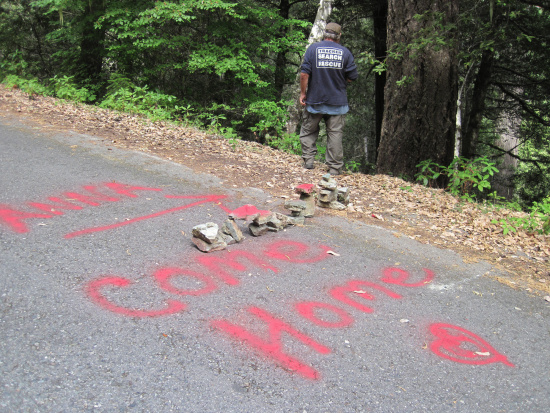 Trailhead where missing hiker Anna Rodriquez Flasnik was last seen by her brother as he dropped her off for an extended stay in the rugged mountains north of Orleans. (Photos in this article provided by Kim Cabrera.)
Today is Anna's birthday, said Jacqueline Zumwalt, mother of missing hiker Anna Rodriquez Flasnik. (See earlier stories here and here.) "Jesse [Anna's brother] and the crew headed out to the canyon again… . Family members are coming from around the country… . [W]e ask that everyone display a sunflower and light a candle for her."
Jesse Rodriquez, a member of the Mescalero Apache tribe, says his sister who he describes as "one of the burliest women, if not the burliest woman, on earth," hiked into the rugged mountains above Orleans months ago. Flasnik was supposed to meet Rodriquez on August 9th at the trailhead. When she failed to show up, he returned for several days in a row. Eventually, the family began searching and asked for help from law enforcement.
Rodriquez, who describes himself as a tracker, says he found her halfway camp and "her three month old tracks" in late August. But other than that the family have found no sign of the missing hiker.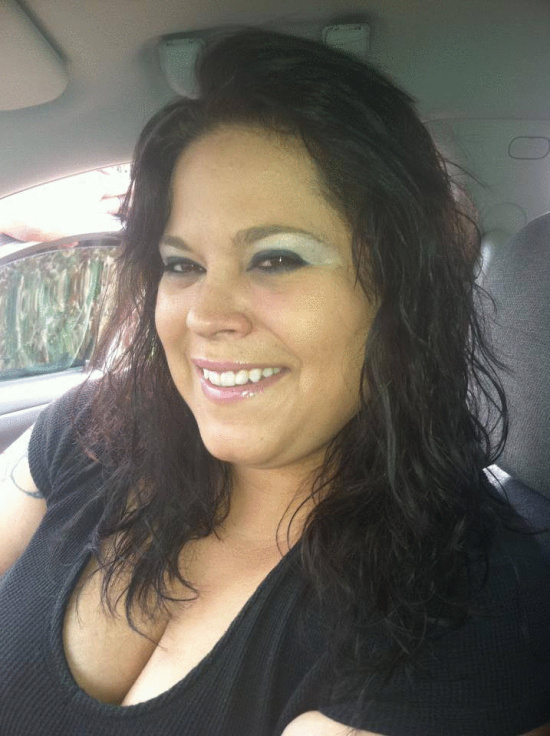 Photo of missing hiker, Anna Rodriquez Flasnik
However, according to the family, just recently, law enforcement have located some clues.
Lt. Dave Morey of the Humboldt Co. Sheriff's Office was unwilling to confirm specifics but said, "We are actively working the missing person case. We have been out looking for her… . We have found some signs that were in the area that sounds like where her camp might have been… . We're in the right area. We know that."
When asked about the possibility of foul play, Lt. Morey stated, "We're not ruling anything out."
A tracker from Southern Humboldt who went to help with the search earlier, Kim Cabrera, describes the area as "very steep and very rugged." Cabrera, who provided the photos with this story said that the search was taxing and extremely difficult. She described several groups scouring different areas encountering difficulties. "One group," she said, "got into a canyon. It was so steep, they couldn't get back out. They had to rope themselves over waterfalls."
She herself was in a group with only one other person. "We were trying to get down from the top. We got on this ridge. There was tons of deadfall that you had to crawl under, around, and through." She noted that there were "a lot of dead trees from a beetle infestation but when you get into old growth, it was beautiful–easy to walk around."
Eventually, Cabrera said, "One team had to spend the night because it was so steep and gnarly… . The folks that were still up there had no food and water and that night it rained. They did build a shelter and a big lean-to."
Cabrera explained that there were many factors hampering the rescue or recovery efforts. She said that even though there had been some aerial searching, "there was a big canopy so even if they had a helicopter they might not be able to see her." Also she said, "GPS didn't even work in one of the canyons, and, of course, cell phone didn't even work."
"One of the trackers," Cabrera noted, "said it was the worse terrain he'd ever seen even though he'd been in Alaska and he had over 30 years of experience… ." Then she added, "After seeing that canyon, my respect for [Anna] went up in leaps and bounds. She is an amazing woman."
Cabrera said that one of the hard parts was that "there really wasn't a place that [Flasnik] had last been seen. [Note the photo above that shows the trailhead.] Essentially the trackers were just searchers. Obviously we were looking for tracks and signs. But what they really need is people with ropes and equipment."
Rodriquez, the brother of the missing hiker, was pleased by the evidence he said had recently been found by law enforcement. He said he had been getting discouraged because so little had been found but this "restores my faith. I was beginning to give up hope."
The searchers have left signs for Flasnik carving messages for her in the bark of trees.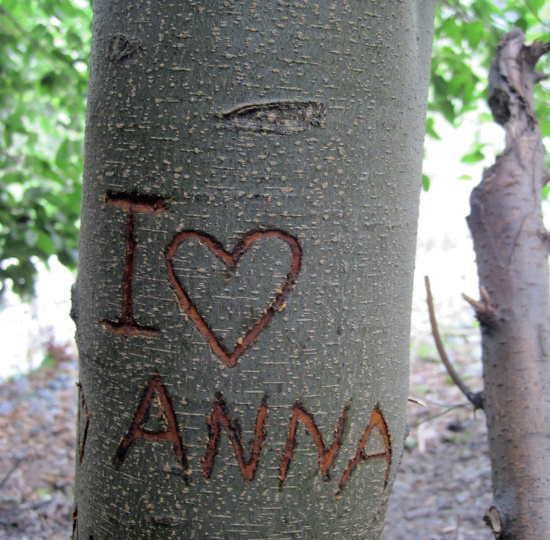 As fall approaches, the family holds out hope which was heightened by the recent evidence they say was found by law enforcement. One piece, says Rodriquez, was extremely exciting. "It could be a very vital clue."
He and others are searching this weekend. "[T]he family," explains Zumwalt, "as many members who are able to come, are gathering for her birthday, and to do all we can to aid in the search for her."
However, if she isn't found after a careful search, says Flasnik's brother, Jesse Rodriquez, "we know she made it out… . We know she is not in the canyon." He pauses then says quietly, "I guess then we're back at starting all over again."
Some friends and family are not happy with the communication between the family's searchers and law enforcement. A petition has been started with over a 100 signatures in just one day requesting the Humboldt Co. Sheriff's Office to "coordinate and communicate" with Flasnik's family. It says,
Anna Rodriquez was reported missing on August 10th, 2013 after she failed to meet her brother to resupply her wilderness camp. Anna's family and friends have been searching the wilderness area where she was last seen for the last three weeks. HCSO has been out to search for Anna only a couple of times and have not kept the family informed of key information that could have assisted her family in the search. Humboldt County Sheriff's Dept and Search and Rescue, Do your Job and help bring Anna back to her family!