McKinleyville Man Named as Victim in Yesterday's Crash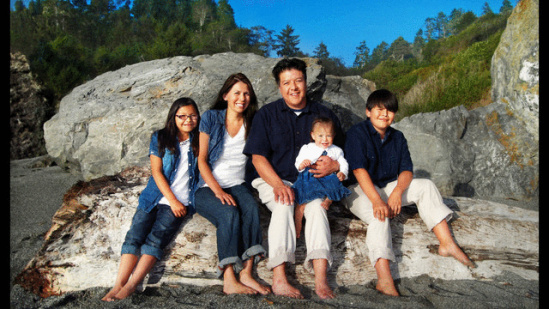 (Photo from Fundrazr page)
UPDATE 8/1: A fundraiser for Mr. Rainer's young family has been established here. The page says,
David Rainer died in a fatal car accident on July 29th, 2013. He was a loved and respected member of our community and he will be greatly missed. He leaves behind a wife and four children. Any donation no matter how big or small is greatly appreciated.
LoCO made a small donation. Can you?
Original post below——————————————–
The CHP is reporting this morning that 40 year old David John Rainer of McKinleyville was the victim of the traffic accident yesterday near the intersection of Hwy 299 and Hwy 101. (See previous story here.) According to his facebook page, Rainer was the owner of Rainer Granite Creations.
The accident, according to the CHP, occurred at approximately 11:30 yesterday morning when Rainer was driving his 2005 grey Ford Explorer south on Hwy 101. For unknown reasons, he drifted off the roadway just south of the 299 interchange into a wooded area. A branch broke through the car window and he was impaled.
Traffic was impacted for several hours at the site of the accident.
Previously: [Fatal] Accident near 299 Intersection with Hwy 101 This Morning