Dance Fire near Orleans up to 650 Acres [UPDATED with More Details of Fire]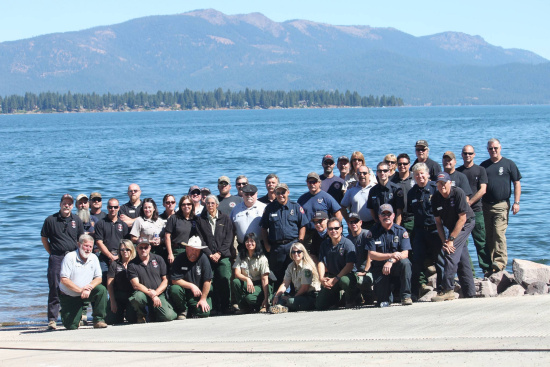 Photo of the NorCal Team 2 Interagency Management Team that will be working on the Dance Fire.
UPDATE 8:10 P.M.:
Six Rivers National Forest Press Release:
The Dance Fire, which started about 5:15 p.m. on Monday, as of 6:00 p.m. today, has burned 650 acres with an estimated 25% containment. Fire crews made good progress today in working on the fire. The fire moved up Sims Gulch towards the G-O Road and Black Mountain. It is burning in rough, difficult terrain in timber fuels.

One residence and several outbuildings were destroyed. About 50 residences are still threatened. Power and phone lines have been restored. There is normal traffic flowing on Highway 96.

NorCal 2, a Type 2 Incident Management Team, took over management of the Fire at 6 p.m. this evening. The Incident Command Post is at the Hoopa Fire Station.

There was a public meeting today at 6 p.m. at the Karuk Department of Natural Resources (DNR) Building, 39051 Highway 96, Orleans. At that meeting residents were informed about the progress firefighters made so far.

There will be another public meeting at 6 p.m. Wednesday at the DNR Building to update the residents about the fire situation and answer questions.

The Fire, which started along Highway 96 near Camp Creek Road, caused the evacuation of some local residents in and near Orleans on Monday evening. Some residents were evacuated to Junction Elementary School in Somes Bar and the Karuk Tribe Department of Natural Resources (DNR) building in Orleans. Evacuations for some portions of Orleans will be lifted later this evening or early Wednesday.

The local water district has asked all Orleans residents to observe water conservation measures to avoid water loss for the community according to Sara Spence from the Karuk DNR.

Resources from the following agencies are on scene: Six Rivers and Klamath National Forests, Cal Fire, Hoopa Fire Department, Orleans Volunteer Fire Department, California Highway Patrol, County Sheriff's Office, Forest Service law enforcement officers, California Department of Transportation (Caltrans), and Fortuna CCCs.

FIRE FACTS

Size: Approximately 650 acres

Started: July 29, 2013

Estimated Containment: July 31, 2013

Resources:

14 crews
4 helicopters
27 engines
2 dozers
3 water tender
475 Total Personnel

For more information check InciWeb for updates. The cause of the fire is under investigation.
Original post below———————————————-
According to Julie Ranieri, the Six Rivers National Forest spokesperson, the Dance Fire which started yesterday evening near the town of Orleans in northeastern Humboldt has now burnt 650 acres with fire crews making "good progress making line." More information should be coming out soon.
Cal Trans has opened Hwy 96 to regular two traffic after having closed the highway yesterday.
Previously: