[Fatal] Accident near 299 Intersection with Hwy 101 This Morning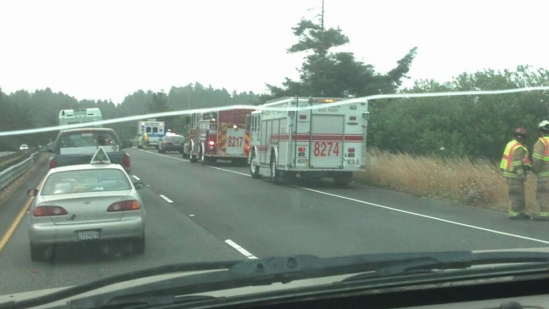 UPDATE 7/30: The victim of the crash was 40 year old David J. Rainer of McKinleyville.
UPDATE 3:05 P.M.:
CHP Press Release:
On Monday, July 29th, at approximately 11:30 am, an adult male was driving his grey 2005 Ford Explorer southbound on US-101, just south of the SR-299 interchange, in the right lane at approximately 65 miles per hour. For reasons still under investigation, the Ford gradually drove off the west roadway edge and collided into a highway sign. The Ford continued in a southerly direction down an embankment and drove into a grove of trees where the vehicle eventually came to rest. The driver sustained fatal injuries when he was impaled by a tree branch that penetrated the vehicle's windshield during the course of the collision. The driver had his seatbelt on at the time of the collision and DUI as a factor is currently being investigated. US-101 Southbound near the collision scene was reduced to one lane of traffic for several hours while the traffic collision was being investigated and the vehicle was being recovered. The California Highway Patrol (CHP) Humboldt Area is investigating this traffic collision.

The CHP would like to thank the Arcata Police Department, Arcata Fire Department, Alder Camp Calfire, Caltrans, Arcata-Mad River Ambulance, and the Humboldt County Coroner's Office for their quick response to this traffic collision and their assistance in processing the collision scene.

The California Highway Patrol reminds motorists to obey all traffic laws and be vigilant of vehicles driving unsafely when traveling this summer. If you observe a possible DUI driver, notify CHP dispatch immediately by dialing 911.
UPDATE 1:54 P.M.: Public Information Officer Matt Harvey responded that this was a "solo vehicle fatality. Fatal victim is a male adult and the vehicle is 2005 grey Ford Explorer." A press release should be out later today.
Original Post below———–
According to CHP office personnel, all available officers are at the scene of a crash at the Hwy 101/299 intersection. Channel 3 is reporting a fatal solo crash involving a 2005 grey Ford Explorer.
The only accident occurring in that area according to CHP dispatch is one which was called in at 11:37 this morning. The accident involved a gold Chevy Blazer off the side of the road.
A reader sent in these photos from the area saying that traffic had been slowed and moved into one lane around 11:45 A.M.
LoCO has a request for information into the CHP.