Oregon Fires Dump Thick Smoke into Humboldt Air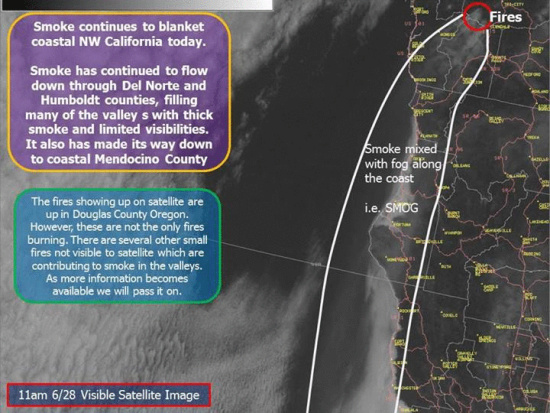 Satellite image provided by the Eureka branch of the US National Weather Service (Kudos for their excellent coverage and explanation through the weekend.)
Smoke from over 7500 acres of Oregon fires poured down from the north yesterday and today. The fires, fanned by gusty winds, and spurred by low humidity are continuing to burn and threaten some structures in their different areas. The Douglas Complex Fires provide most of the smoke to our area but there are fires in other places.
Some residents have been evacuated from the Douglas Complex. Others have been warned to be prepared for evacuation.
The smoke pushed by wind from the north has spread across Del Norte and Humboldt counties into Mendocino County. According to a reader, "On my way south out of Humboldt this morning, the smoke was hellacious… . But it was the worst, to the point of not being able to see the road clearly…, in Mendocino [on Hwy 101] just north of the cutoff to Covelo, looking west. If this is from [Oregon,] it must be Armageddon up there… ."
Neither the Humboldt nor the Mendocino Air Quality Control Board have issued air quality alerts. Neither are reachable probably because it is the weekend. The Humboldt Co. entity has a recording on their phone stating, "No air quality alerts have been issued at this time." @Mendoair, the Twitter account of the Mendocino entity, was last updated earlier yesterday. It predicts that today will be a "green" or good air day. [UPDATE 2:20 P.M. @Mendoair just tweeted that today and tomorrow are going to be good air days.]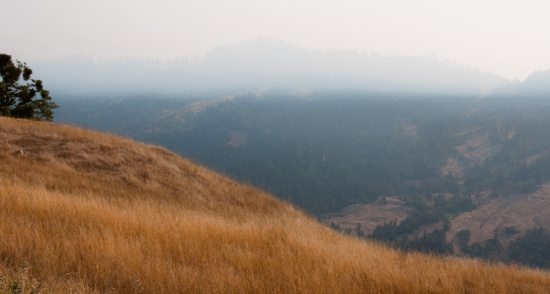 There are multiple reports of smoke laying in heavy across the region. Above is a photo which looks east from above the Salmon Creek in Southern Humboldt. There is a thick layer of smoke forming a lid over the valley but the smoke is pervasive even lower and the smell of burning wafts through the area.
Below is an animated gif that shows smoke across the region over the course of the first have half of today. LoCO will continue to update when more information becomes available.
Animated image of smoke throughout California and surrounding areas over the course of the day. Note the time changing towards the top right. (from the Mendocino Air Quality Board.)
Previously: