Film on the North Coast–Free Showings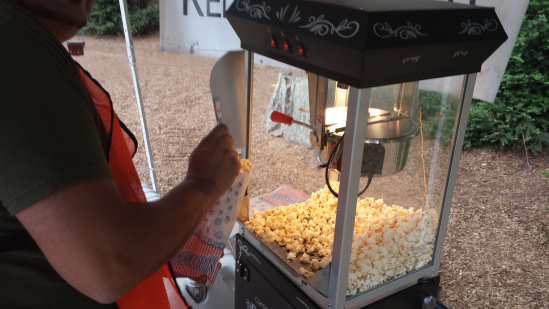 Popcorn was for sale but E.T. was free.
Humboldt Film Commission Press Release:
On Saturday, July 20, The Humboldt-Del Norte Film Commission held its first, in a series of four, monthly Movies in the Park event at Sequoia Park in the City of Eureka. An estimated five hundred people turned out for the evening.

Music was provided by Deep Groove Society DJs prior to dusk and was followed by Looney Toon Cartoons, a short film made by local filmmaker Montel Vanderhorck and the feature presentation, E.T.:

The Extra-Terrestrial.

Next up is The Lost World: Jurassic Park (PG-13) on Saturday, August 24, Walt Disney's The Gnome-Mobile (G) on Saturday, September 21, and the original Salem's Lot (PG) on Saturday, October 26. Each of these films contains scenes that were shot on the North Coast, featuring Humboldt Redwoods State Park, Ferndale, and Fern Canyon. This new free community event is focused on presenting big budget films that were filmed in the north coast area the Film Commission serves.

The Film Commission would like to thank its community sponsors Northcoast Audio, Deep Groove Society, Living the Dream Ice Cream, Pierson Building Center, A and I Roofing, Red Lion Hotel, Redwood Capital Bank, Humboldt Wholesale and North Coast Co-op.

For more information on this event, contact the Film Commission at (707)825-7600 or info@filmhumboldtdelnorte.org.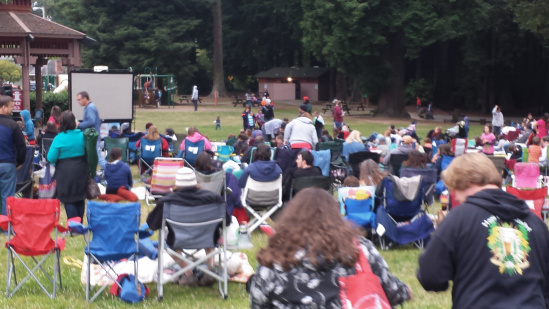 An estimated 500 attendees listen to music while waiting for dusk and the featured film.
—————————————–
(Photos courtesy of the Humboldt-Del Norte Film Commission)