Entire Hwy 101 Closed South of Laytonville [Photos Added–Road Opened]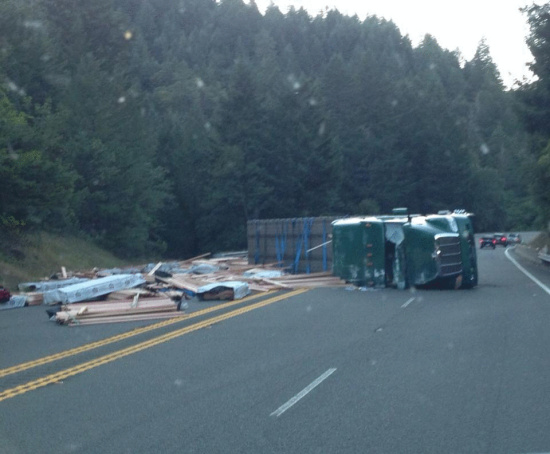 UPDATED 7 A.M.: The roadway was completely clear as of around 11 P.M. last night. Photo from a reader [Sonja Sundberg] added above.
UPDATED 8:50 P.M. One way controlled traffic.
Original post below——————————————————————–
According to CHP dispatch and SoHum Awareness, a lumber truck has overturned and spread "lost wood all over the roadway" about ten miles south of Laytonville. The entire road is closed. Rough area of accident shown on map below. Follow the CHP dispatch here.
[googlemaps https://maps.google.com/maps?f=q&source=s_q&hl=en&geocode=&q=39.614840+-123.459214&aq=&sll=37.269174,-119.306607&sspn=15.105592,27.158203&t=h&ie=UTF8&ll=39.61484,-123.459214&spn=0.228727,0.424347&z=12&output=embed&w=425&h=350]