Bicyclist Hit in Eureka Near 4th and S (UPDATED)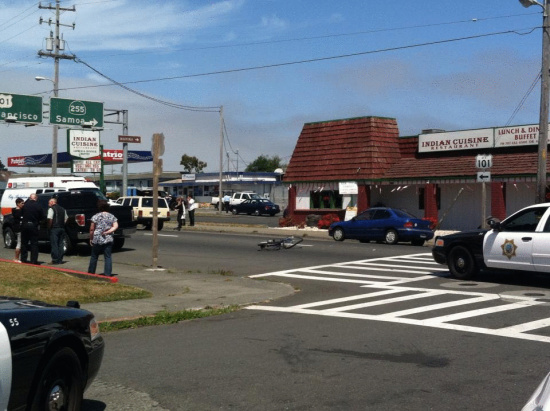 Eureka Police Dept. has confirmed a bicyclist was hit near 4th and S Street and is in the hospital. LoCO reader Sean Sexton, who sent in the photos here, says, "I overheard someone say she is going to be ok but her legs (knees) were injured."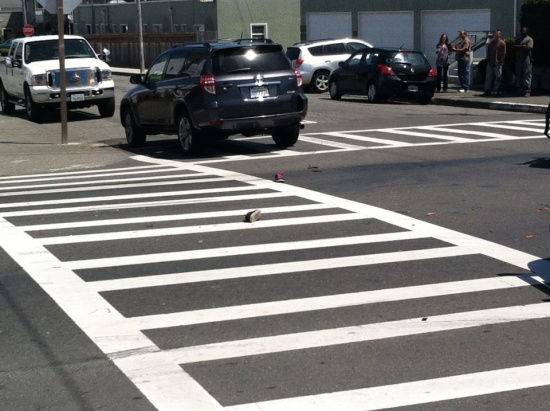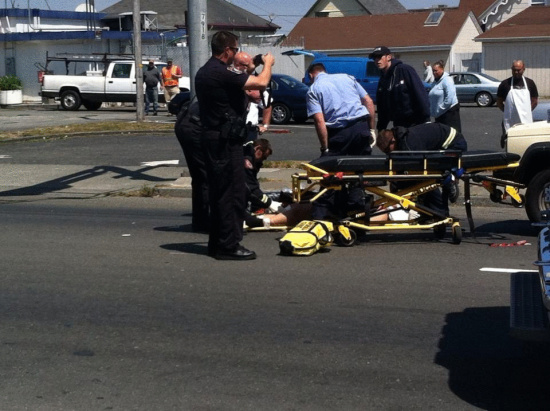 UPDATE 3:43 p.m.: Press release from the Eureka Police Department:
On Monday July 8th at about 1130 AM EPD Officers and EMS were dispatched to an injury traffic collision involving a vehicle vs a bicyclist at the intersection of 4th and "S" streets. Upon arrival Officers located the bicyclist, 18 year old Rattnak Sokhom of Eureka down in the roadway. She was soon transported to the hospital. Officers also contacted 23 year old Shaylyn Heitzman of Arcata who reported that she had been driving her 1988 Jeep Cherokee W/B on 4th street in the right lane passing "S" street when a bicyclist rode out in front of her causing the two to collide.

After speaking with both Heitzman and Sokhom along with several witnesses, it was determined that Sokhom was riding her bike E/B on the south sidewalk of 4th street approaching "S" street. Traffic in the left lane of4th street was backed up due to the signal light at "R" street. Sokhom rode off of the sidewalk in an attempt to cross 4th street. She rode between two vehicles in the left lane, but didn't see V-2 traveling W/B in the right lane, and pulled directly into its path. The front of the Jeep Cherokee hit Sokhom, ejecting her from the bicycle. Sokhom was not wearing a helmet and sustained a head injury along with multiple leg injuries. None of her injuries appear to be life threatening.

Alcohol and drugs no not appear to be a factor in the collision.