Another Fire this Morning as Dangerously Dry Fuel Loads are Swept by Gusts of Wind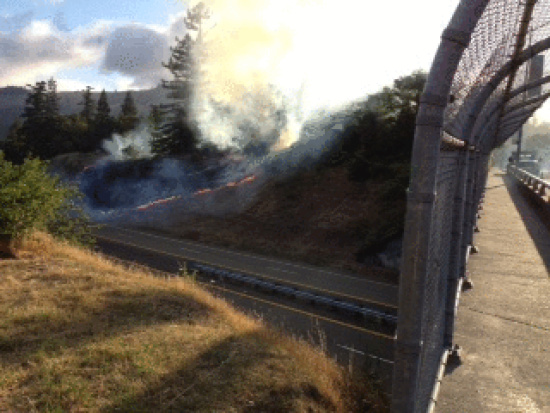 Another fire swept towards Garberville about 6:40 A.M. It was on Hwy 101 by the old Garberville school off of Sprowl Cr. Rd. Local VFD and Cal Fire quickly slapped it out. The crews have been dealing with a series of small but frightening fires that have been scattered across the south county the last 48 hours.
A resident of Garberville, Margaret Taylor, who lives near the fire site wrote in to LoCO that the fire was burning towards businesses and homes on the west side of Redwood Drive. She sent the photo above and said, "Thank you, fire fighters!
Cal Fire has completed mopping up and Doug Bryan of the Southern Humboldt Fire Chiefs Public Information Team sent the photo below after he got through fighting the fire there this morning.
Bryan explained that though the fires in the Harris area were likely caused by lightning, the origin of the recent fires have yet to be determined. The combination, he says, of gusty winds and dry fuels create dangerous conditions. He wrote,
There are so many fires because the fuels, aka vegetation, is the driest we have seen in sixty years. The tiniest spark can cause fires. Combine in thirty mph wind gusts and we get the situation we are seeing, lots of fire ignitions.

Our community needs to be prepared for more fire as we move into even drier conditions. Not pessimistically, but being smart and getting prepared to respond to the reality of our climatic situation.