Lightning Fires: Photos and Video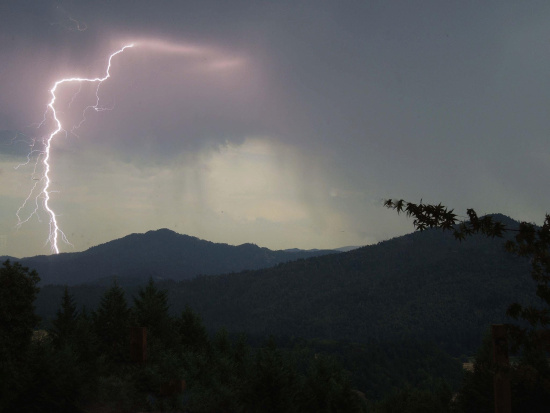 Spectacular photo of a lightning strike yesterday afternoon in Southern Humboldt (Photographer Sandra Bonham.)
According to the US National Weather Service in Eureka's Facebook page,
Over 500 cloud to ground lightning strikes occurred yesterday and last night in the three county area of Trinity, Humboldt, and Mendocino counties. Multiple small fires have been reported in the Shasta-Trinity and Mendocino National Forests. If you see a smoke plume, especially a small one that may not be known about yet, be safe and call 911 to report it. If firefighters can get to a fire quickly they can keep it from getting out of control.
Several fires started yesterday in the Southern Humboldt area also. LoCO will update with more information as it comes in.
Photo and video of Cal Fire helicopter at work near Jewett Rock east of Garberville.
Watch the fire helicopter work here ( Photo and video courtesy of the Palo Verde VFD)
[youtube http://www.youtube.com/watch?v=-8gU1N8XD7w]