(UPDATED) Arson in Loleta Early this Morning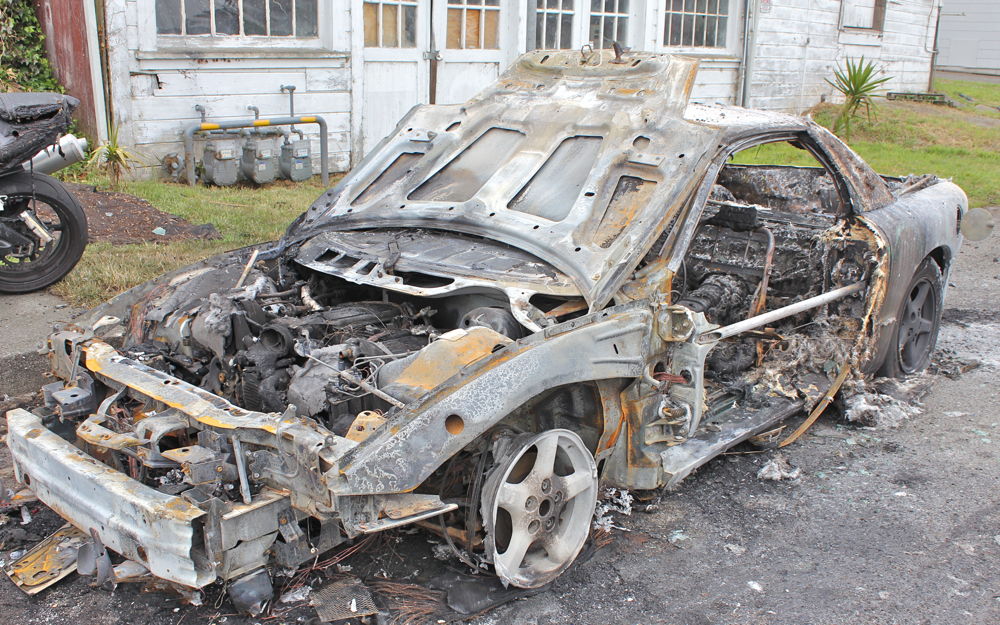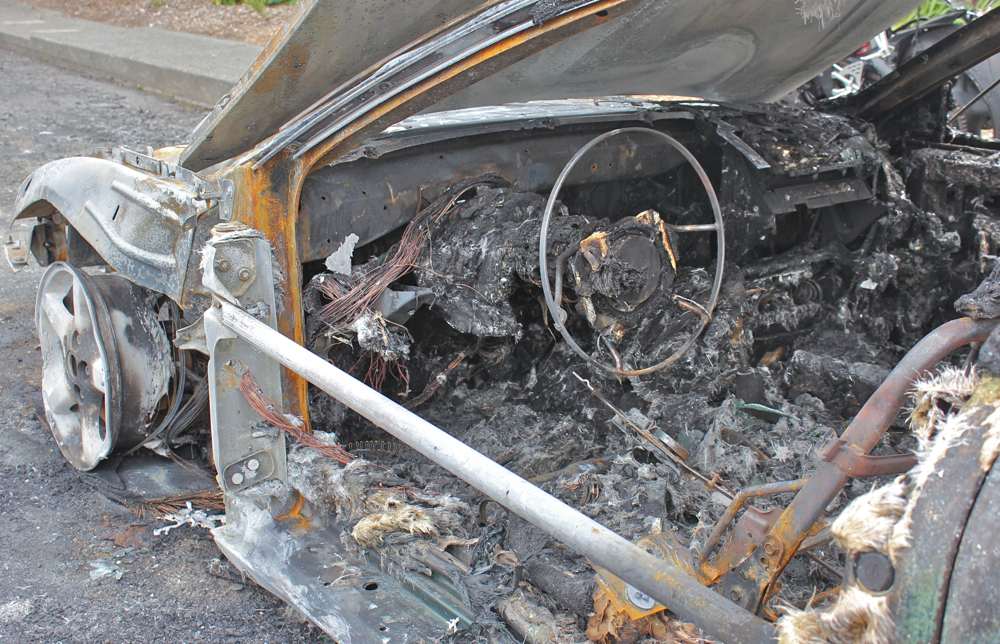 (Click photos to enlarge.)
UPDATE 9:40 A.M.: Humboldt Co. Sheriff press release:
On 06-6-2013, approximately 1:25 a.m., the Humboldt County Sheriff's Office received a call of an explosion and a vehicle on fire in the 500 block of Montgomery Street, Loleta. Two deputies were on a traffic stop approximately one block away from Montgomery Street and heard the explosion, which was then followed by the sound of several smaller explosions. The deputies advised dispatch what they heard and responded to the scene, along with Loleta Fire department and Cal-Fire. When the deputies arrived they saw several vehicles on fire, with one fully engulfed. A 1995 Pontiac Firebird was burned down to the frame. A 2004 Yamaha Motorcycle and a black 2000 Toyota Echo received extensive damage, and a 2005 Volkswagen Sedan received minor damage. Based upon evidence located at the scene and the origin of the fire the case is being treated as an Arson Investigation. Arson Investigators from the Humboldt County Arson Task Force and Sheriff's Detectives are currently working on this case. There are no suspects at this time.

Anyone with information for the Sheriffs Office regarding this case or related criminal activity is encouraged to call the Sheriffs Office at 707-445-7251 or the Sheriffs Office Crime Tip line at 707-268-2539.
# # # # #
Early this morning, according to CHP reports, a two door firebird type vehicle was set alight in Loleta near the corner of Loleta Drive and Montgomery Street. The resulting conflagration resulted in damage to a nearby motorcycle and a Toyota Echo.
CHP dispatch stated, "This is arson. [An] arson unit is being called."
LoCO has requested more information from the Humboldt CO. Sheriff's office.