Buy a Corner of Eureka–Caltrans Offers a Piece for Sale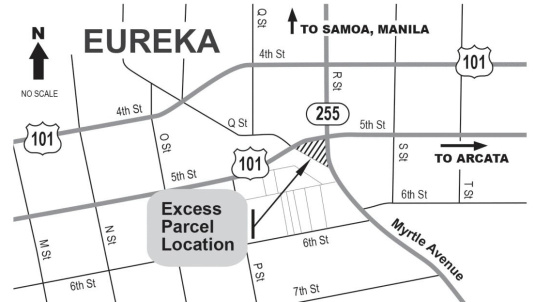 Caltrans' Press Release:
WHAT IS BEING PLANNED

The California Department of Transportation (Caltrans) is proposing to sell an excess land parcel located at the corner of Fifth Street (Route 101) and R Street (Myrtle Avenue) within the City of Eureka, County of Humboldt. The proposed excess land sale involves a site on a list established under Section 65962.5 of the Government Code pertaining to hazardous waste. Caltrans obtained a Remedial Action Completion Certification from the Humboldt County Division of Environmental Health upon the removal of an underground storage tank and contaminated soil at this parcel.

WHAT IS AVAILABLE

Caltrans has studied the effects this land sale may have on the environment, and have concluded the sale will not significantly affect the quality of the environment. Copies of the report summarizing these studies, the Initial Study and Proposed Negative Declaration, is now available for public viewing at the Eureka Main Library,1313 Third Street; the Caltrans District 1 Office, 1656 Union Street in Eureka during the hours of 8:00 a.m. and 5:00 p.m., Monday through Friday; and online at: www.dot.ca.gov/dist1/d1projects/envdocs.htm

CONTACT INFORMATION

Written comments regarding the Initial Study may be submitted to Sandra Rosas, Caltrans District 1, Environmental Management, P.O. Box 3700, Eureka, CA 95502-3700, or to Sandra.Rosas@dot.ca.gov by June 6, 2013. For more information about the excess land sale process, please contact Douglas Bortz, at (530) 741-4419 or Douglas.Bortz@dot.ca.gov.

SPECIAL ACCOMMODATIONS

For individuals with sensory disabilities, this document can be made available in Braille, large print, audiocassette, or computer disc. To obtain a copy in one of these alternate formats, please contact Scott Burger, Public Information Officer, at (707) 441-3998, or TTY 711.